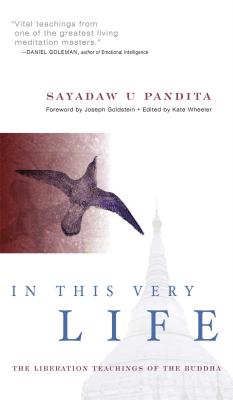 In This Very Life (Paperback)
Liberation Teachings of the Buddha
Wisdom Publications, 9780861713110, 320pp.
Publication Date: November 9, 1995
Other Editions of This Title:
Paperback (1/1/1993)
* Individual store prices may vary.
Description
Burmese meditation master Sayadaw U Pandita shows us that freedom is as immediate as breathing, as fundamental as a footstep. In this book he describes the path of the Buddha and calls all of us to that heroic journey of liberation. Enlivened by numerous case histories and anecdotes, In This Very Life is a matchless guide to the inner territory of meditation - as described by the Buddha.
About the Author
Aggacitta Bhikkhu is a Malaysian Theravada monk ordained in Rangoon, Burma, in 1979 and trained by Sayadaw U Pandita, Sayadaw U Tissara, Sayadaw U Acinna among others. He studied advanced Pali and translation in Thai and Burmese under Sayadaw U Dhammananda in Thailand, from 1983 to 1984. In 2000, he founded Sasanarakkha Buddhist Sanctuary near Taiping, Perak, Malaysia.

Joseph Goldstein has been leading insight and loving-kindness meditation retreats worldwide since 1974. He is a cofounder of the Insight Meditation Society (IMS) in Massachusetts, where he continues as one of the resident guiding teachers. In 1989, together with several other teachers and students, he established the Barre Center for Buddhist Studies and, later, The Forest Refuge. A seminal figure in the emergence of Buddhism in the West, Joseph is the author of numerous books including One Dharma. He lives in Barre, Massachusetts.
Praise For In This Very Life: Liberation Teachings of the Buddha…
"This is a truly alive transmission of the Buddha's teachings, a direct and explicit guide to the freeing of the mind here and now. The Buddha's teachings can be realized by each one of us, and In This Very Life shows us how."
— Joseph Goldstein, author of One Dharma and A Heart Full of Peace

"A classic guide to vipassana."
— Buddhadharma

"A classic, beautifully edited compilation. Useful stories and profound understanding illuminate and contextualize practitioners' meditative experience. The author brings to life many of the essential teachings of the Buddha, presenting them in a clear, organized, and inspiring way. Beginning or advanced students will learn teachings they have not encountered before, clarify points they have, and increase confidence, which in turn can lead to the development of concentration and insight. The book includes basic meditation instructions and discussions of ways to deepen one's practice and strengthen the forces that bring about enlightenment. In This Very Life also provides glimpses of the landscape of deepening wisdom and an illuminated mind."
— Inquiring Mind

"An exquisitely precise and profound analysis of mind states and meditation practice written in a remarkably clear, readable style."
— Roger Walsh, Professor of Psychiatry and Philosophy, University of California

"A rounded and incisive meditation manual based on U Pandita's 40 years of meditation experience. The author is masterful in his analysis of mind states and his commentary on the essentials of mediation practice will appeal to a wide variety of readers...These teachings are very profound and relevant to those of us who live in a culture where craving and aversion exert a strong and persistent hold over us."
— Spirituality and Health

"Vital teachings from one of the greatest living meditation masters."
— Daniel Goleman, author of Emotional Intelligence and The Meditative Mind