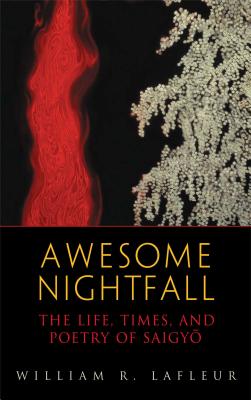 Awesome Nightfall
The Life, Times, and Poetry of Saigyo
Paperback

* Individual store prices may vary.
Description
Awesome Nightfall: The Life, Times, and Poetry of Saigyo captures the power of Saigyo's poetry and this previously overlooked poet's keen insight into the social and political world of medieval Japan. It also offers a fascinating look into the world of Japanese Buddhism prior to the wholesale influence of Zen.
Praise For Awesome Nightfall: The Life, Times, and Poetry of Saigyo…
"On anyone's list, Saigyo ranks among Japan's best poets. With Hitomaro and Basho, he has long been one of the poets most loved by the Japanese. (Basho viewed Saigyo as a model for his life as a recluse, a monk, and a poet traveler.) A master of many styles of poetry, Saigyo was [also] a pioneer in a new style, presenting a rich, darkly imagistic field with symbolic overtones. [. . . ] This new volume by LaFleur adds 43 new translations to the almost 200 previously published in his earlier Mirror for the Moon and provides a greatly expanded 70-page introduction to Saigyo's life and times that provides an invaluable framework for interpretation. [. . .] LaFleur's appealing contemporary English versions convey Saigyo's relatively informal voice and diction, and his long involvement with the poems is evident both in his translations and his commentary. This attractive new volume presents a more substantial overview of Saigyo's life and times than has been undertaken in any of the earlier English-language translations. Decades of scholarly and personal engagement with Saigyo's writings make LaFleur a reliable guide to the literary modes, techniques, and values that inform Saigyo's poetry. Many of the translations here are not only immediately appealing but reward reflection and re-reading."
— Journal of Japanese Studies

"One of the most extraordinary new books currently in release is William R. LaFleur's Awesome Nightfall: The Life, Times, and Poetry of Saigyo. This fascinating work is equal parts biography. History, poetry, and even mystery as it traces the life and mind of an elusive and complex figure in Japanese culture...This book is one of the rare works that leaves the reader overflowing with satisfaction in knowing something important and wonderful was achieved in the trip through its pages."
— New York Resident

"In 1140, Saigyo cast off his warrior past and entered his poetic and priestly vocation. Attached to no monastery, he roamed Japan, engaging in religious austerities and honing his skills. William R. LaFleur's Awesome Nightfall offers us a more complex, more human Saigyo--reclusive, yes, but still a very close observer of his times, viewing the enveloping darkness from the heights 'where none can view me / but I can review all things.'"
— The Asahi Shimbun (Japan's Leading National Newspaper)

"This remarkable life and poetry of Saigyo is essential reading: essential to understanding Japanese literary tradition, and essential to understanding the role of Japan's most influential poet in the history of its Buddhism. Saigyo found beauty in the temporality of things and identified with ordinary villagers throughout his famous journeys, writing poems that remain as elegant, perceptive and moving today as they were a thousand years ago. William R. LaFleur presents a striking portrait of the man and his work. His scholarship and artistry are commendable. Awesome Nightfall is a classic."
— Sam Hamill

"Saigyo's poems are masterful mind-language challenges. Bill LaFleur's deeply understanding translations present us with the snake-like energy of the syntax, and the illuminated world that was called out by one man's lifetime of walking and meditation is again right here."--
— Gary Snyder

"The twelfth-century Japanese Buddhist poet Saigyo is a revered figure in Japanese literature, and was a guiding figure, centuries later, for Basho. Until his mid-twenties Saigyo was a samurai; the remainder of his life was devoted to the relation between the secular world and Buddhist practice, between Buddhist ideals and poetry and the love of nature. Professor LaFleur has spent decades on his study of Saigyo and what is known of his world and his work. Awesome Nightfall is a welcome presentation of Saigyo's poetry and his life as they reflect each other."
— W.S. Merwin

"A beautifully proportioned work of lucid scholarship and superb literary translation. This fruit of LaFleur's long and inspired labor not only honors the great Buddhist poet Saigyo, but the intelligence and heart of readers as well."
— Mike O'Connor, translator of The Clouds Should Know Me By Now and Where the World Does Not Follow

"William LaFleur's account of Saigyo's life kept me spellbound, and his translations made me ache to hit the road with Saigyo, surely the most lucid & bittersweet poet of Buddhist Japan. On the surface these poems are bright with full moons, falling sakura blossoms, mossy peaks. You can see withered autumn fields & hear geese in the mist. But the depths of Saigyo's poetry? Think of a solemn temple bell sounding across the mountains at twilight. 'Although all things in this world undergo change, the way of poetry extends unaltered even to the last age.' A volume of poetry should be a trusted comrade, even to the last age. This superb collection will be."
— Andrew Schelling, Naropa University, author of The Cane Groves of Narmada River: Erotic Poems from Old India

"Saigyo lived in twelfth-century Japan, but from reading his poetry, it doesn't feel like it. The first half of Awesome Nightfall is an account of his life in the turbulent Japanese culture amid which he was raised. Dotted with his poems, it provides a good ground from which to read the second half, which consists of about 150 waka (five-line traditional verse poem-form). His poems are alive to the vivid transformations of inner and outer worlds. This is an inspiring volume, both poetically and spiritually."
— Dharma Life

"A quarter of a century ago, LaFleur published his book on Saigyo, Mirror for the Moon, which Awesome Nightfall thoughtfully and masterfully supersedes. LaFleur sketches Saigyo's life in bold strokes and introduces new findings for the English-reading audience. The book opens up fascinating and important questions, and as such this volume will be an interesting choice for seminars on Japanese medieval literature, history, or religion."
— Philosophy East & West
Wisdom Publications, 9780861713226, 192pp.
Publication Date: June 15, 2003
About the Author
William R. LaFleur received his PhD from the University of Chicago, where he studied with Joseph Kitagawa and Mircea Eliade. Over the course of his career, LaFleur taught at Princeton University, UCLA, Sophia University, Tokyo, and at the University of Pennsylvania, where he was the E. Dale Saunders Professor of Japanese Studies. In addition to his work on Buddhist cosmology and the "mind" of medieval Japan, he was a gifted translator and interpreter of poetry and published two volumes on the medieval monk-poet Saigyo. He was deeply interested in Zen, especially as a resource for contemporary thought. He wrote and edited several books and essays, introducing to Western readers the work of the thirteenth-century Zen master Dogen, the Kyoto-school figure Masao Abe, and the twentieth-century philosopher and cultural historian Watsuji Tetsuro. In 1989, he became the first non-Japanese to win the Watsuji Tetsuro Cultural Prize. In his later career, while continuing to study medieval Japanese religion and literature, he produced pioneering studies of Japanese bioethics, highlighting contrasts with Western approaches to such issues as abortion, organ transplants, and medical definitions of death. Altogether, he wrote or edited nine books. He passed away in 2010.
or
Not Currently Available for Direct Purchase