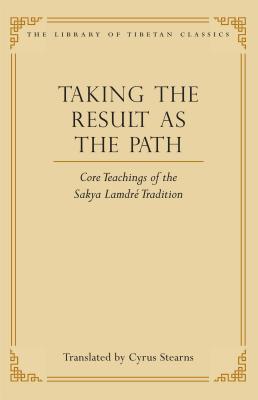 Taking the Result as the Path (Hardcover)
Core Teachings of the Sakya Lamdre Tradition (Library of Tibetan Classics #4)
Wisdom Publications, 9780861714438, 784pp.
Publication Date: December 1, 2006
* Individual store prices may vary.
Description
The tradition known as the Path with the Result, or Lamdre, is the most important tantric system of meditation practice and theory in the Sakya school of Tibetan Buddhism. This volume contains an unprecedented compilation of eleven vital works from different periods in the history of the Path with the Result in India and Tibet, including the Vajra Lines of the great Indian adept Virupa (ca. seventh-eighth centuries), the basic text of the tradition. The collection also includes six writings by Jamyang Khyentse Wangchuk (1524-68) and an instruction manual composed by the Fifth Dalai Lama (1617-62). None of the works in this book have ever been published before in any European language, and most of these writings traditionally have been considered secret. The present translation, an important new volume of the Library of Tibetan Classics, has been made with the personal approval and encouragement of His Holiness Sakya Trizin, head of the Sakya tradition. Students of the Lamdre will rejoice at the availability and lucidity of this major translation of key Sakya texts.
About the Author
Cyrus Stearns first began to study Buddhism with Dezhung Rinpoche (1906-87) in 1973. Since that time he has studied with and translated for many Tibetan teachers, especially Dezhung Rinpoche and Chogye Trichen Rinpoche. Cyrus has a PhD in Buddhist Studies from the University of Washington and lived for about eight years in Nepal, India, and Southeast Asia. Among his other publications are The Buddha from Dolpo, Hermit of Go Cliffs, and Luminous Lives. Cyrus has three daughters and lives on Whidbey Island, Washington. His Holiness Sakya Trizin is the revered forty-first throne holder of the Sakya school of Tibetan Buddhism, which dates back to 1073. He is a member of the Khon family, who have been important teachers of Buddhism in Tibet since the eighth century. A brilliant master, he manifests profound wisdom and compassion, and his command of English renders his teachings particularly beneficial to students in the West. He was born in 1945 in Sakya, Tibet, and in 1959 escaped with tens of thousands of Tibetan people to India, where he continues to live and work tirelessly to rebuild the Sakya tradition. He has guided the establishment of over thirty monasteries in India and Nepal and has helped found Sakya centers around the world. His seat in North America is Tsechen Kunchab Ling in Walden, New York.
or
Not Currently Available for Direct Purchase