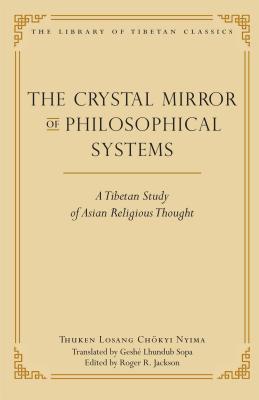 The Crystal Mirror of Philosophical Systems (Hardcover)
A Tibetan Study of Asian Religious Thought (Library of Tibetan Classics #25)
Wisdom Publications, 9780861714643, 664pp.
Publication Date: April 1, 2009
* Individual store prices may vary.
Description
The Crystal Mirror of Philosophical Systems, by Thuken Losang Chokyi Nyima (1737-1802), is arguably the widest-ranging account of religious philosophies ever written in pre-modern Tibet. Like most Tibetan texts on philosophical systems, this work covers the major schools of India, both Buddhist and non-Buddhist, but then goes on to discuss in detail the entire range of Tibetan traditions as well, with separate chapters on the Nyingma, Kadam, Kagyu, Shije, Sakya, Jonang, Geluk, and Bon schools. Not resting there, Thuken goes on to describe the major traditions of China--Confucian, Daoist, and the multiple varieties of Buddhist--as well as those of Mongolia, Khotan, and even Shambhala. The Crystal Mirror of Philosophical Systems is unusual, too, in its concern not just to describe and analyze doctrines, but to trace the historical development of the various traditions. The Crystal Mirror of Philosophical Systems is an eloquent and erudite presentation exploring the religious history and philosophical systems of an array of Asian Cultures--and offering evidence that the serious and sympathetic study of the history of religions has not been a monopoly of Western scholarship.
About the Author
Thuken Losang Chokyi Nyima (1737-1802) was among the most cosmopolitan and prolific Tibetan Buddhist masters of the late eighteenth century. Hailing from the "melting pot" region of Amdo, he was Mongol by heritage, and educated in Gelukpa monasteries. Throughout his life, he traveled widely in east and inner Asia, spending significant time in Central Tibet, Amdo, inner Mongolia, and at the Qing court in Beijing. He served as abbot of several important monasteries, and wrote hundreds of texts on Buddhist thought and practice, the most enduring and influential of which is the Crystal Mirror of Philosophical Systems. Born in the Tsang region of Tibet in 1923, Geshe Lhundub Sopa is both a spiritual master and a respected academic. He rose from a humble background to complete his geshe studies at Sera Je Monastic University in Lhasa with highest honors and was privileged to serve as a debate opponent for the Dalai Lama's own geshe examination in 1959. He moved to New Jersey in the United States in 1963 and in 1967 began teaching in the Buddhist Studies Program at University of Wisconsin-Madison, where he is now professor emeritus. In 1975, he founded the Deer Park Buddhist Center in Oregon, Wisconsin, site of the Dalai Lama's first Kalachakra initiation granted in the West. He is the author of several books in English, including the five-volume comprehensive teaching, Steps on the Path to Englightenment. Roger R. Jackson is the John W. Nason Professor of Asian Studies and Religion at Carleton College in Minnesota, where he teaches the religions of South Asia and Tibet. He has published many articles on the philosophy, ritual, meditative practices, and poetry of Indian and Tibetan Buddhism, and has written or co-edited several books, including Is Enlightenment Possible?, Tibetan Literature, Buddhist Theology, Tantric Treasures, and Mahamudra and the Bka' brgyud Tradition. He is a past editor of the Journal of the International Association of Buddhist Studies, and is currently co-editor of the Indian International Journal of Buddhist Studies.
or
Not Currently Available for Direct Purchase