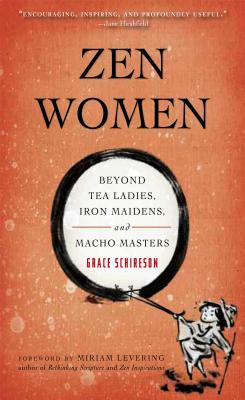 Zen Women
Beyond Tea Ladies, Iron Maidens, and Macho Masters
Paperback

* Individual store prices may vary.
Description
This landmark presentation at last makes heard the centuries of Zen's female voices. Through exploring the teachings and history of Zen's female ancestors, from the time of the Buddha to ancient and modern female masters in China, Korea, and Japan, Grace Schireson offers us a view of a more balanced Dharma practice, one that is especially applicable to our complex lives, embedded as they are in webs of family relations and responsibilities, and the challenges of love and work.

Part I of this book describes female practitioners as they are portrayed in the classic literature of "Patriarchs' Zen"--often as "tea-ladies," bit players in the drama of male students' enlightenments; as "iron maidens," tough-as-nails women always jousting with their male counterparts; or women who themselves become "macho masters," teaching the same Patriarchs' Zen as the men do. Part II of this book presents a different view--a view of how women Zen masters entered Zen practice and how they embodied and taught Zen uniquely as women. This section examines many urgent and illuminating questions about our Zen grandmothers: How did it affect them to be taught by men? What did they feel as they trying to fit into this male practice environment, and how did their Zen training help them with their feelings? How did their lives and relationships differ from that of their male teachers? How did they express the Dharma in their own way for other female students? How was their teaching consistently different from that of male ancestors? And then part III explores how women's practice provides flexible and pragmatic solutions to issues arising in contemporary Western Zen centers.
Praise For Zen Women: Beyond Tea Ladies, Iron Maidens, and Macho Masters…
"So here's the thumbnail review: read this book."
— Buddhadharma

"Encouraging, inspiring, and profoundly useful. A kind of Blue Cliff Record for our own time."
— Jane Hirshfield

"An exceptional and powerful classic with great depth, humor, and clarity."
— Joan Halifax, abbess of Upaya Zen Center

"This book changes everything! Zen Women is about all of us. It resets the common understanding of Zen history with eye-opening stories. A must-read."
— Pat Enkyo O'Hara, abbess of the Village Zendo

"These pages come alive with the power to inspire."
— Sojun Mel Weitsman, abbot of the Berkeley Zen Center

"Full inclusion of women is the single most revolutionary development in religion for our time. This book is crucial for anyone who wants to understand contemporary spiritual practice."
— Norman Fischer, author of Sailing Home

"Men and women alike will weep to read these stories of generations of Zen women who risked everything-sometimes even their lives-to study the Dharma. This book should be required reading for truth seekers of every faith."
— Lewis Richmond, author of Work as a Spiritual Practice

"With passion and verve, this inspiring work is a significant step towards filling the gaping holes in Buddhist literature on women's practice. Read it, laugh, and weep-and most of all, feel empowered."
— Wendy Egyoku Nakao, abbess of the Zen Center Los Angeles

"Fascinating and delightful. This book will overturn many long-held stereotypes about Zen."
— Ruben L.F. Habito, author of Living Zen, Loving God

"Zen Women opens, onto millennia and across continents, women's places in Zen. The word beyond in the subtitle charges us to pass by the common yet limiting images of our possibilities as Buddhist women and move toward those that make us proud and ready to build an American Zen. Schireson is making a new record for the future. She seeks to resolve contradictions and missing stories in the record not by claiming victimization of women and calling for restitution but by revising the record and reinterpreting the Zen lineage for our own time. The stories function as case studies of women's social engagement and encouragement for women's leadership in the sangha and in society."
— Inquiring Mind
Wisdom Publications, 9780861714759, 320pp.
Publication Date: October 27, 2009
About the Author
Grace Schireson is a Dharma teacher in the Suzuki Roshi lineage empowered by Sojun Mel Weitsman, abbot of Berkeley Zen Center. She has also been empowered to teach koans by Keido Fukushima Roshi, chief abbot of Tofukuji Monastery in Kyoto Japan. Grace is the head teacher of the Central Valley Zen Foundation and has founded and leads three Zen groups and a Zen retreat center, in California. Grace is also a Clinical Psychologist who has specialized in women and families. Married for over forty years, she has two sons and three grandchildren.
or
Not Currently Available for Direct Purchase