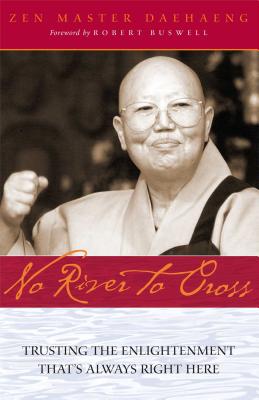 No River to Cross
Trusting the Enlightenment That's Always Right Here
Paperback

* Individual store prices may vary.
Description
It is often said that enlightenment means "crossing over to the other shore," that far-off place where we can at last be free from suffering. Likewise, it is said that Buddhist teachings are the raft that takes us there.

In this sparkling collection from one of the most vital teachers of modern Korean Buddhism, Zen Master Daehaeng shows us that there is no raft to find and, truly, no river to cross. She extends her hand to the Western reader, beckoning each of us into the unfailing wisdom accessible right now, the enlightenment that is always, already, right here.

A Zen (or seon, as Korean Zen is called) master with impeccable credentials, Daehaeng has developed a refreshing approach; No River to Cross is surprisingly personal. It's disarmingly simple, yet remarkably profound, pointing us again and again to our foundation, our "True Nature" - the perfection of things just as they are.
Praise For No River to Cross: Trusting the Enlightenment That's Always Right Here…
"No River to Cross speaks directly and simply from the heart, much in the manner of Shunryu Suzuki's Zen Mind, Beginner's Mind. Master Daehaeng's ability to penetrate the skin with plain and pointed words should give this work the same longevity."
— Francisca Cho, Georgetown University, translator of Everything Yearned For

"No River to Cross gives us a strong voice, at times astonishingly direct; a balance of clear explanations of the complex terms and concepts of Buddhist practice with precise, perfectly chosen, illuminating examples; and a striking relevance for today's world in Daehaeng Sunim's reflections, among other topics, on creation, evolution, and religious conflict."
— David McCann, recipient of the Manhae Prize for Arts and Sciences, and Director of the Korea Institute at Harvard University

"Daehaeng Kun Sunim emerges in this collection as one of the most creative and accessible of contemporary Korean Buddhist teachers, capable of using even the most mundane of daily events as grist for the mill of Buddhist teaching and practice."
— Robert Buswell, Director of the Center for Buddhist Studies, UCLA, from his Foreword
Wisdom Publications, 9780861715343, 144pp.
Publication Date: September 28, 2007
About the Author
Daehaeng Kun Sunim was one of the most respected Buddhist teachers in Korea. While most Korean Zen masters have traditionally taught only monks and perhaps a few nuns, Daehaeng Kun Sunim was determined to teach spiritual practice in such a way that anyone--regardless of their occupation, gender, or family status--could practice and awaken. With this in mind, in 1972 she established Hanmaum Seon Center as a place where everyone could come and learn about their true nature and how to live with freedom, dignity, and courage. The center has gone on to emerge as one of the most influential Korean Buddhist centers today, with over fifteen domestic branches and nine overseas centers. Daehaeng Kun Sunim is the author of No River to Cross. She passed away in May 2012.
or
Not Currently Available for Direct Purchase