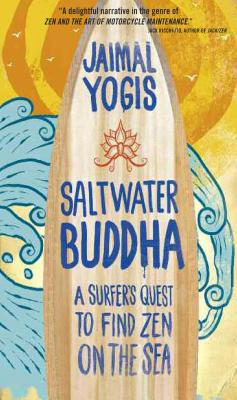 Saltwater Buddha (Paperback)
A Surfer's Quest to Find Zen on the Sea
Wisdom Publications, 9780861715350, 238pp.
Publication Date: May 1, 2009
* Individual store prices may vary.
Description
Fed up with teenage life in the suburbs, Jaimal Yogis ran off to Hawaii with little more than a copy of Hermann Hesse's Siddhartha and enough cash for a surfboard. His journey is a coming-of-age saga that takes him from communes to monasteries, from the warm Pacific to the icy New York shore. Equal parts spiritual memoir and surfer's tale, this is a chronicle of finding meditative focus in the barrel of a wave and eternal truth in the great salty blue.
About the Author
Jaimal Yogis is an award-winning journalist and photographer who spends a good deal of his spare time surfing and traveling the globe. He has a master's degree in journalism from Columbia University in New York City and his work has been published in The Washington Post, The Chicago Tribune, The Toronto Star, Beliefnet, Tricycle, and many more. He lives in San Francisco and is a regular contributor for San Francisco Magazine.
Praise For Saltwater Buddha: A Surfer's Quest to Find Zen on the Sea…
"Jaimal's story is, in part, an adventure story in which the sea is a powerful antagonist, at once the siren and the ogre, irresistible and terrifying in its sheer, monstrous power. For this author, it's a voracious and demanding lover, and he is skilled at summoning its ever-changing presence."--The Huffington Post


"A journalist, photographer, and surfer, Yogis began the life of a roving seeker his junior year of high school, when he ran away from his Sacramento, Calif. home to learn how to surf in Hawaii. His subsequent travels include a handful of prime surfing spots, but Yogis's more arresting journey is spiritual, taking him to monasteries in France and Berkley, Calif., and deep into the living tradition of Zen Buddhism. Captured here in short chapters and wonderful, visual prose, Yogis's coming-of-age odyssey also takes readers into the culture of indigenous Hawaiians, who believe the gods were surfers. Yogis's long-time surfing mentor Rom provides insight into the science of surfing, ocean swells, the bathymetry of the continental shelf, deep water canyons and sea mounts. Even land lovers will find Yogis's lessons resonant and entertaining, but surfers will find this a quick, surprisingly deep tribute to the quest for surf and serenity."--Publishers Weekly