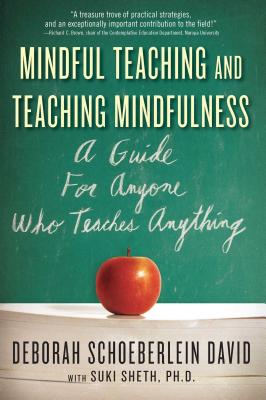 Mindful Teaching and Teaching Mindfulness
A Guide for Anyone Who Teaches Anything
Paperback

* Individual store prices may vary.
Other Editions of This Title:
MP3 CD (10/11/2016)
Description
Author Deborah Schoeberlein pioneers the practical application of mindfulness in education. By showing teachers how to tune into what's happening, inside and around them, she offers fresh, straightforward approaches to training attention and generating caring both in and outside of the classroom. Mindful Teaching and Teaching Mindfulness emphasizes how the teacher's personal familiarity with mindfulness plants the seed for an education infused with attention, awareness, kindness, empathy, compassion, and gratitude. The book follows a teacher from morning to night on a typical school day, at home, during the commute, and before, during, and after class. This book is perfect for teachers of all kinds: schoolteachers, religious educators, coaches, parents-anyone who teaches anything.
Praise For Mindful Teaching and Teaching Mindfulness: A Guide for Anyone Who Teaches Anything…
"Education is an area that has been crying out for mindfulness. Schoeberlein's book makes a helpful contribution to a growing body of literature and curricula on how to bring secular contemplative practices, including cultivating kindness, into school systems. It's replete with techniques to help teachers ground themselves amid the chaos and tension of the classroom, and related techniques that teachers can use to guide students--helping them enjoy being at school, learn better, and get along well with others."

"Reflection can become the new basic "R" of education, promoting social and emotional learning while cultivating resilience and resourcefulness in students of all ages. In this wonderful book, the authors have provided a user-friendly guide to developing a teacher's own way of reflecting on the nature of the mind and on becoming open to present experience--of being "mindful"--that can help develop reflection as a way of living and of teaching. Consider this book an invitation to try on a research-proven focus of attention that nurtures emotional balance, promotes bodily health, supports empathic relationships, and even strengthens the brain. What more could we ask for ourselves as teachers and for our students who deserve to be taught in a way the prepares them for life from the inside out?"
— Daniel J. Siegel, M.D. author, Mindsight: The New Science of Personal Transformation &The Mindful Brain: Reflection & Attunement in the Cultivation of Well-Being

"A gift for educators, helpful in any classroom, for any teacher and with every student."
— Goldie Hawn, children's advocate and founder of the Hawn Foundation

"This timely volume brings the teaching of mindfulness from the sphere of spiritual traditions into the purview of general education. Devoid of jargon and deeply enriching to students and teachers alike, this contemplative approach promotes new skills that lead to gaining focus, balance, and enjoyment."
— Dalia Judovitz, Ph.D., Contemplative Practice Fellow and NEH Professor at Emory University

"A terrific contribution to understanding why mindfulness belongs in the classroom and a gentle guide on how to weave it into activities."
— Gianni Faedda, M.D., author of Parenting a Bipolar Child

"A wise and sensible guide, a generous gift to teachers and students alike."
— Ara Guzelimian, provost and dean of The Juilliard School

"A treasure-trove of practical strategies, and an exceptionally important contribution to the field!"
— Richard C. Brown, chair of the Contemplative Education Department, Naropa University

"Many teachers often sense there is a mysterious element to their teaching, something that impacted their effectiveness even more than the material they were offering. This book reveals that element, and offers many specific ways to cultivate, harness, and incorporate it. A must-read for those interested in the potential of education."
— Soren Gordhamer, author of Wisdom 2.0

"A rich resource for teachers, school counselors, and faculty involved in preparing the next generation of educators. I can't wait to share this book with my colleagues and students."
— Susan Theberge, Ed.D., professor of education at Keene State College

"Offers hands-on tools, exercises, and insights tempered by the voice of experience that help to build relationships with students and engage them in learning, and that will renew teachers' own energy, passion, and commitment."
— Eugene C. Roehlkepartain, vice president of the Search Institute
Wisdom Publications, 9780861715671, 224pp.
Publication Date: September 8, 2009
About the Author
Deborah Schoeberlein David, MEd, has more than twenty-five years' experience teaching youth and adults, developing interactive curriculum, training teachers, providing parent education seminars and implementing sensitive programming, both in K-12 and professional settings. She is the author of Mindful Teaching and Teaching Mindfulness: A Guide for Anyone Who Teaches Anything.

Suki Sheth, PhD, received her doctorate from Columbia University in 1999. While pursuing her studies, she worked as a teaching assistant with undergraduate and graduate school students. Since returning to her home in Mumbai, India, Suki has tutored teenagers in physics and math. In her spare time, she takes adult education classes in philosophy and hikes in the Himalayas, exploring the mountains of India, Nepal, and Tibet.