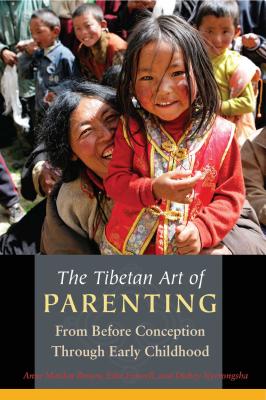 The Tibetan Art of Parenting (Paperback)
From Before Conception Through Early Childhood
Wisdom Publications (MA), 9780861715794, 240pp.
Publication Date: December 2, 2008
* Individual store prices may vary.
Description
Steeped in the Buddhist traditions of wisdom, compassion, and the interconnectedness of all things, Tibetan childrearing practices are a refreshing new way to prepare for and raise children. This book provides a practical introduction to these practices and an integrated system of childcare that incorporates body, emotions, mind, spirit, relationships, and environment. Authors Anne Hubbell Maiden and Edie Farwell cover all aspects of traditional Tibetan parenting from conception onwards, both exploring ancient techniques and reinterpreting them for a modern audience. Far more than just a parenting guide, the book is a fascinating look into an intimate and revered part of Tibetan culture. It makes a welcome addition to the library of newlyweds, expectant parents, and parents with children of all ages who are interested in a practical approach to parenthood that recognizes community and everyone's responsibility to both self and planet.
About the Author
Anne Maiden Brown, PhD, is a psychotherapist and social pyschologist currently living in Berkeley, California. Edie Farwell is Executive Director of the Sustainability Leaders Network. She strives to accelerate the shift to economic, social and environmental sustainability by increasing the effectiveness of well-positioned sustainability leaders from the business, non-profit, government and philanthropy sectors. Her network represents a diversity of fields, including indigenous rights, Tibetan wisdom, renewable energy, climate, water, forestry, sustainable agriculture and land management, poverty eradication, social entrepreneurship, corporate social responsibility, media for social change, youth, gender equity and marine ecology. From 2002 to 2010, Farwell served as the founding director of the Donella Meadows Leadership Fellows Program of the Sustainability Institute where she co-designed transformative leadership skills for sustainability professionals through a focus on systems thinking, reflective conversation, the discipline of vision, creative expression and coaching. With the Sustainability Leaders Network she deepens the learning and practice of graduated Fellows and key partners to further increase their impact as strategic sustainability thought leaders, instigators, and actors. Edie earned a M.A. in cultural and social anthropology from the California Institute of Integral Studies (1990); and a B.A. in anthropology and environmental studies from Dartmouth College (1983). She lives in the Cobb Hill eco-village experiment in sustainable living that Donella Meadows co-founded in Hartland, Vermont. Dr. Dickey Nyeronsgha is the resident physician of The Nyerongsha Institute for Tibetan Medicine and Culture. Born in Lhasa, Tibet, she graduated from the University of Tibet Medical School, and has had a flourishing practice in the United States for over ten years.
or
Not Currently Available for Direct Purchase