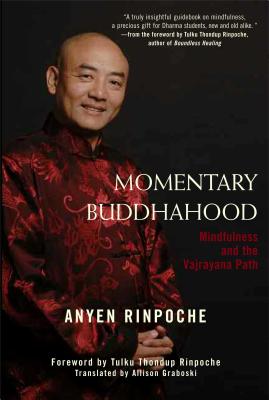 Momentary Buddhahood (Paperback)
Mindfulness and the Vajrayana Path
Wisdom Publications, 9780861715985, 127pp.
Publication Date: October 1, 2009
* Individual store prices may vary.
Description
We think of enlightenment as something that happens all at once, like a tidal wave that cleans away everything impure. In truth, however, realization happens incrementally, from moment to moment. And in any moment when true wisdom is recognized, all concepts and afflictions are freed right on the spot and we can affirm for ourselves that the experience of enlightenment is possible. When we do, we experience a moment of the mind of a buddha - "momentary buddhahood." In this tantalizing presentation, Anyen Rinpoche offers a vision of the crucial necessity of mindfulness in any exploration of the Buddha's path - especially the path of tantric practice.
About the Author
Anyen Rinpoche was born in Amdo, Tibet. His lineage can be traced back directly to the renowned Dzogchen master Patrul Rinpoche, author of Words of My Perfect Teacher. Anyen Rinpoche's training included more than fourteen years of intensive study combined with solitary retreat before he obtained the degree of khenpo (master teacher) and became the head scholar of his monastic university in Kham, Tibet. Rinpoche is known for his profound understanding of the scriptures as well as his easy-to-understand interpretation of them. He has taught extensively in Tibet and China and now mentors students throughout Southeast Asia, Japan and North America. Tulku Thondup Rinpoche was born in Golok, Eastern Tibet, and recognized as a reincarnate lama at age five. He left Tibet as a political refugee in 1958 and taught at Lucknow University and Visva Bharati University in India before coming to the United States as a visiting scholar at Harvard University in 1980. Since then, he has lived and worked in Cambridge, Massachusetts, engaged in translation and writing projects on Tibetan Buddhism, focused particularly on the teachings of the Nyingma school. He is the author of numerous books on history, literature, mind, and meditation.
Praise For Momentary Buddhahood: Mindfulness and the Vajrayana Path…
Anyen Rinpoche capably guides the reader toward a remarkable goal, all the while making it seem fully attainable."Buddhadharma


With his brilliant scholarship in Buddhism and intimate knowledge of the minds of both East and West, Anyen Rinpoche has produced a truly insightful guidebook on mindfulness, a precious gift for Dharma students, new and old alike. I trust that by taking in these teachings, we can rejuvenate the mindfulness that is inherent in us all."-from the foreword by Tulku Thondup Rinpoche, author of Boundless Healing


Anyen Rinpoche teaches the profound view of Dzogchen as the culmination of a graduated path of practical instructions for transforming our lives. He points out that the experience of the mind's true nature is accessible to us at any time, yet must be cultivated through a lifetime of practice. This accessible book shows how mindfulness is central to this practice, allowing us to recognize our own negative patterns of behavior and transcend them."-Sam Van Schaik, author Approaching the Great Perfection