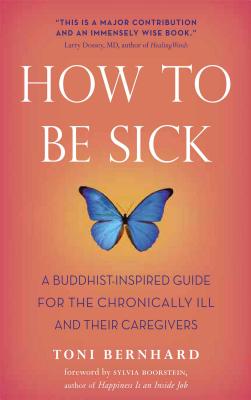 How to Be Sick
A Buddhist-Inspired Guide for the Chronically Ill and Their Caregivers
Paperback

* Individual store prices may vary.
Other Editions of This Title:
Paperback (7/14/2020)
Description
2011 Nautilus Book Award — Gold Medal in Personal Growth/Self-Help/Psychology

2011 Nautilus Book Award — Silver Medal in Memoir/Personal Journey

This life-affirming, instructive, and thoroughly inspiring book is a must-read for anyone who is - or who might one day be - sick. It can also be the perfect gift of guidance, encouragement, and uplifting inspiration to family, friends, and loved ones struggling with the many terrifying or disheartening life changes that come so close on the heels of a diagnosis of a chronic condition or life-threatening illness. Authentic and graceful, How to be Sick reminds us of our limitless inner freedom, even under high degrees of suffering and pain.

The author - who became ill while a university law professor in the prime of her career - tells the reader how she got sick and, to her and her partner's bewilderment, stayed that way. Toni had been a longtime meditator, going on long meditation retreats and spending many hours rigorously practicing, but soon discovered that she simply could no longer engage in those difficult and taxing forms. She had to learn ways to make "being sick" the heart of her spiritual practice - and through truly learning how to be sick, she learned how, even with many physical and energetic limitations, to live a life of equanimity, compassion, and joy. And whether we ourselves are ill or not, we can learn these vital arts from Bernhard's generous wisdom in How to Be Sick.
Praise For How to Be Sick: A Buddhist-Inspired Guide for the Chronically Ill and Their Caregivers…
"Full of hopefulness and promise…this book is a perfect blend of inspiration and encouragement. Toni's engaging teaching style shares traditional Buddhist wisdom in a format that is accessible to all readers."
— The Huffington Post

"Toni Bernhard's book, How To Be Sick--A Buddhist's Guide for the Chronically Ill and Their Caregivers, is an invitation to gently set aside the fear and the fight in order to truly live. It is based on principles of Buddhism, which she carefully applies to her own chronic and at times debilitating illness. She offers a different perspective on illness and wellness, suggesting the two need not be mutually exclusive."
— Psychology Today

"A immensely wise book. Health psychology has been poisoned by the view that the best way to approach illness is through a muscular, militant resistance. This books shows otherwise. Bernhard reveals how letting go, surrendering, and putting the ego aside yield insights and fulfillment even in the presence of illness. This is a major contribution."
— Larry Dossey, MD, author of Healing Words

"How does one face a chronic illness? In 2001 law professor Bernhard became sick from a virus that no doctor has been able to treat. Faced with ongoing disabling symptoms, forced to give up her profession, and unable to take part in most of the activities she loves, Bernhard has dug into the roots of the Buddhism she once studied intensively, looking for resources to cope with such devastating loss. She clearly explains how such Buddhist principles as the four noble truths, impermanence, no-self, and dependent origination help her cope with limited energy and frequent enforced solitude. No longer able to meditate formally, Bernhard describes a set of easy mental practices, drawn from her own daily experiences as well as vipassana (insight meditation), Zen koans, Tibetan Buddhist compassion exercises, and the "inquiry" technique of author Byron Katie, a practice for working with thoughts. Bernhard's applications of Buddhism are sound and her insights gentle and honest; others may take heart from her determination to use the Buddha's timeless wisdom to ease the mental suffering brought about by unrelieved physical illness."--
— Publishers Weekly

"You don't have to be sick to benefit from the advice in this book. This is a book on how to live fully."
— Joy Selak, author of You Don't LOOK Sick!

"An inspiring work"
— Joseph Goldstein, author of A Heart Full of Peace

"Beautiful, heartfelt, and immensely courageous. Truly worth reading."
— Sharon Salzberg, author of Lovingkindness

"An inspiring and instructive guide for coping with a chronic condition or life-threatening illness but it is much more than that. Each chapter is about unpacking the highest truth in the lowest places of our lives. The book is entitled How To Be Sick but I found that it's really about how to live."
— Jim Palmer, Author of Divine Nobodies, and Wide Open Spaces

"This book could easily be called "How to Be Well." Toni Bernhard's hard-won wisdom dealing with chronic illness teaches us how to be kind to ourselves, to counter negative thoughts about our life and our health, and to live fully in the present--neither regretting the past nor fearing the future. Who among us couldn't use these life-affirming skills? Bravo!"
— Susan Milstrey Wells, author of A Delicate Balance: Living Successfully with Chronic Illness

"If you want to better understand how to deal with a chronic illness, or you are the caregiver for someone who is chronically ill, read How to be Sick."
— The Caregiver's Voice
Wisdom Publications, 9780861716265, 216pp.
Publication Date: September 14, 2010
About the Author
Toni Bernhard is the author of the award-winning How to Be Sick: A Buddhist-Inspired Guide for the Chronically Ill and their Caregivers and How to Wake Up: A Buddhist-Inspired Guide to Navigating Joy and Sorrow. Until forced to retire due to illness, Toni was a law professor at the University of California-Davis, serving six years as the dean of students. She has been a practicing Buddhist for over 20 years. Her blog, "Turning Straw Into Gold" is hosted on the website of Psychology Today. She can be found online at www.tonibernhard.com.

Sylvia Boorstein is the author of many well-known books, including It's Easier Than You Think, Funny, You Don't Look Buddhist, and Don't Just Do Something, Sit There. She lives in Geyserville, California.
Coverage from NPR