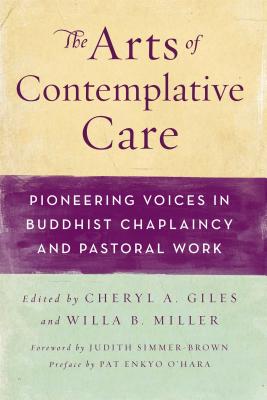 The Arts of Contemplative Care (Hardcover)
Pioneering Voices in Buddhist Chaplaincy and Pastoral Work
Wisdom Publications, 9780861716647, 368pp.
Publication Date: October 23, 2012
* Individual store prices may vary.
Description
Powerful and life-affirming, this watershed volume brings together the voices of pioneers in the field of contemplative care--from hospice and hospitals to colleges, prisons, and the military. Illustrating the day-to-day words and actions of pastoral workers, each first-person essay in this collection offers a distillation of the wisdom gained over years of compassionate experience. The stories told here are sure to inspire--whether you are a professional caregiver or simply feel inclined toward guiding, healing, and comforting roles. If you are inspired to read this book, or even one touching story in it, you just might find yourself inspired to change a life.
About the Author
Cheryl A. Giles, PsyD, is a licensed clinical psychologist and the Francis Greenwood Peabody Professor of the Practice in Pastoral Care and Counseling at Harvard Divinity School, where she is core faculty member of the Buddhist Ministry Program.

Lama Willa Miller has studied and practiced in the Tibetan Buddhist tradition for the last twenty years. Her teaching specialties include natural meditation, heart-cultivation, body-based Buddhist yoga, and practices for deep retreat. She earned her PhD in Religion at Harvard University, where she also assistant teaches. She is author of the book Everyday Dharma: Seven Weeks to Finding the Buddha in You (Quest Books, 2009), a practical guide for getting started on the spiritual path.
Praise For The Arts of Contemplative Care: Pioneering Voices in Buddhist Chaplaincy and Pastoral Work…
"At a time when so many of us are facing the myriad challenges which come with caring for our elderly, sick and imprisoned kin, this wise, compassionate and practical guide comes along to aid us and to give us courage. This collection is a great contribution to all caregivers."
— Jan Willis, author of Dreaming Me: Black, Baptist and Buddhist: One Woman's Spiritual Journey

"This inspiring collection marks the coming-of-age of Buddhist chaplaincy in the United States. The Arts of Contemplative Care will be the principal handbook for such ministries in the years to come."
— Christopher Queen, Harvard University, editor of Engaged Buddhism in the West

"Historically, Buddhism takes root in new cultures when it begins to meet their deepest human needs in fresh and profoundly effective ways. This volume demonstrates how Buddhist chaplaincy and contemplative care now play a crucial role in the mutual transformation of Buddhism and the West, and how we can participate in the deep healing that they bring to those who suffer."
— John Makransky, Professor of Buddhism and Comparative Theology at Boston College, and author of Awakening Through Love

"This book is destined to become the core text of Buddhist Chaplaincy. A radical and wise offering to the world."
— Noah Levine, author of Dharma Punx

"A valuable, honest and wise handbook--and a beautiful sign of the blossoming of Dharma in the West."
— Jack Kornfield, author of A Path With Heart

"A must-read for caregivers and others seeking to actualize genuine compassion beyond hope and fear--a treasure trove of practical wisdom."
— Fleet Maull, founder of the Prison Dharma Network, the National Prison Hospice Association, and the Center for Contemplative End of Life Care Programs at Naropa University

"My heartfelt wish is that the chaplaincy movement represented in this volume will grow and reach people like us who are in need. Just as our hearts can open wide enough to hold all the suffering in the world, so too, may Buddhist chaplaincy blossom."
— Toni Bernhard, author of How to Be Sick: A Buddhist-Inspired Guide for the Chronically Ill and Their Caregivers