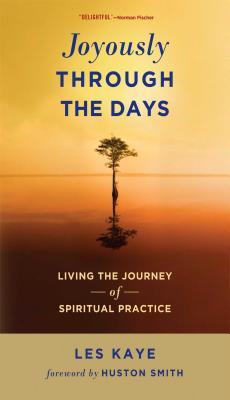 Joyously Through the Days (Paperback)
Living the Journey of Spiritual Practice
Wisdom Publications, 9780861716814, 191pp.
Publication Date: April 1, 2011
* Individual store prices may vary.
Description
Drawing inspiration from such diverse sources as Khalil Gibran, Virginia Woolf, and Frank Sinatra, as well as the Bible and the great Zen masters of old, this book offers a path to rich and lasting happiness achieved through what Huston Smith calls "goal-attaining patience." In Joyously Through the Days, Les Kaye explores life's every day complexities and instructs us in the Zen way through our human foibles. Through awareness, patience, and generosity, Kaye argues, we can respond with creative calm to the uncertain conditions of modern life.
About the Author
Les Kaye received dharma transmission, authority to teach, from Hoitsu Suzuki, son and successor to Shunryu Suzuki. He as appointed teacher at Kannon Do Zen Center in Mountain View, California. He and his wife Mary have two adult children and a grandson and live in Los Altos, California.
Praise For Joyously Through the Days: Living the Journey of Spiritual Practice…
A wise and lucid book that explores awareness, patience, and generosity, three essential qualities of goodness so needed in our world today. This treasured book, written by a dedicated teacher of Buddhism, is a source of inspiration and guidance that the reader returns to again and again."Joan Halifax, author of Being with Dying

"A wise, humane, and level-headed approach to spirituality, wonderful counterweight to the more magical and doctrinaire accounts of Zen and Buddhism that are still all too common, even in a time when most practitioners are looking for down to earth benefits from their practice." Norman Fischer, author of Sailing Home: Using the Wisdom of Homer's Odyssey to Navigate Life's Perils and Pitfalls.

"An uplifting work combining grounded good sense with soaring poetic beauty, it is a Zen book that transcends Zen books."Grace Schireson, author of Zen Women

"Inspiring. With the voice of a caring old friend, Les Kaye shows how the essence of a spiritual life practice is paying careful attention." Frank Jude Boccio

"Les Kaye is a master at finding spiritual lessons in the bits and pieces of our ordinary experience. He invites us to join him in the simple practice of becoming aware of what is actually going on, both inside our heads and in the world around us. Joyously Through the Days is a gentle little guide to such practice and a worthy companion to the author's earlier Zen at Work." Carl Bielefeldt, author of Dogen's Manuals of Zen Meditation

"Whatever one's spiritual inclination, Joyously Through The Days could serve as a valuable guide to a deeper awareness of personal beliefs and habits that shape how we respond to the world around us. If you've ever wondered about the practice of meditation, Kaye's book would be a great place to start." Los Altos Town Crier
or
Not Currently Available for Direct Purchase