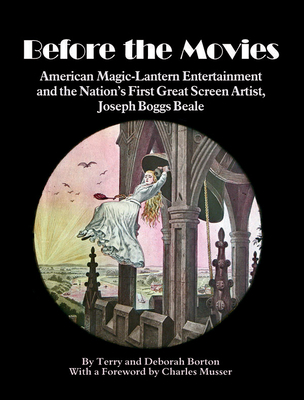 Before the Movies (Hardcover)
American Magic-Lantern Entertainment and the Nation's First Great Screen Artist, Joseph Boggs Beale
John Libbey & Company, 9780861967117, 200pp.
Publication Date: February 10, 2015
* Individual store prices may vary.
Description
Before the Movies is the first book about American screen entertainment in the pre-movie era. A groundbreaking study, lavishly illustrated with 330 color pictures, it is a comprehensive survey of the American artists who created early magic-lantern stories and songs for the screen. The book emphasizes the work of Joseph Boggs Beale, a pioneer in the field and demonstrates that Beale almost single-handedly created American-made screen entertainment for the generation before the movies. His lifetime output was 2,073 images in 258 sets--the screen-time equivalent of 14 full-length films--which millions enjoyed every year. The provenance, attribution, and dates of Beale's lantern slides are discussed in detail, and a comprehensive catalog of his lantern images makes Before the Movies an essential reference volume.
About the Author
Terry Borton holds a doctorate in education from Harvard and is Director of the American Magic Lantern Theater.Deborah Borton holds a doctorate in education from the University of Pennsylvania and is President of the Magic Lantern Society of the United States and Canada.