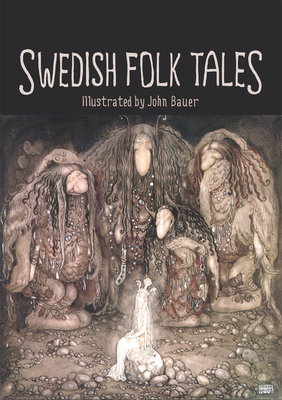 Swedish Folk Tales (Hardcover)
Floris Books - Floris Books, 9780863154577, 235pp.
Publication Date: October 15, 2004
* Individual store prices may vary.
Description
This dazzling collection of twenty-nine illustrated stories includes:
"When Mother Troll Took in the King's Washing" by Elsa Beskow
"The Magician's Cape" by Anna Wahlenberg
"Leap the Elk and the Little Princess Cottongrass" by Helge Kjellin
"The Four Big Trolls and Little Peter Pastureman" by Cyrus Gran r
"The Trolls and the Youngest Tomte" by Alfred Smedberg
"The Ring" by Helena Nyblom
"The Seven Wishes" by Alfred Smedberg
"Stalo and Kauras" by P. A. Lindholm
"The Maiden in the Castle of Rosy Clouds" by Harald Ostenson
"The Boy and the Trolls, or the Adventure" by Walter Stenstr m
"The Crofters and the Gnomes" by Anna Wahlenberg
"The Golden Key" by W. E. Bj rk
"The Giant Who Slept for Ten Thousand Years" by Einar Rosenborg
... and many more
John Bauer's original and evocative illustrations bring these classic Swedish folk tales to life. Those who love Swedish tales won't want to miss this beautifully illustrated book of timeless stories. This is a great gift for anyone at any time of the year
Click on these links to view more of John Bauer's exquisite illustrations.
Leap Elk and Little Princess Cottongrass The Four Big Trolls and Little Peter Pastureman The Golden Key
(Ages 7-100)
or
Not Currently Available for Direct Purchase