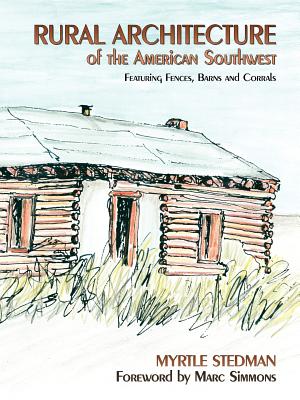 Rural Architecture (Paperback)
Sunstone Press, 9780865340015, 92pp.
Publication Date: April 1, 2007
* Individual store prices may vary.
Description
During the 1950s and 1960s, the use of local building styles and traditional materials seemed to be on the wane. But shortly after that the historic architecture of the American Southwest rapidly began to win a new popularity. The turnaround was partly a product of the back-to-earth movement, the energy crises of the 1970s, and a reawakening of interest in regional history. But it received a boost, too, from advances in the use of solar energy--many of the new developments being especially adaptable to adobe structures. Individuals planning their dream house led the way, but many home builders and architects, taking note of the demand, followed the trend setters. At the same time, "how-to" books and articles on Southwestern traditional architecture began to find a large readership. Among those in the forefront of this small phenomenon was artist and writer Myrtle Stedman. A long-time resident of the Santa Fe, New Mexico area, she had been a champion of the old ways in building for much of her adult life. Indeed, her books "Adobe Architecture" and "Adobe Remodeling and Fireplaces" in significant measure helped spark the return to traditional construction. Mrs. Stedman has now added to her earlier accomplishments with the present sketchbook, focusing on the numerous fascinating and picturesque aspects of rural architecture, focusing on northern New Mexico and southern Colorado. Her splendid pen and ink drawings, reminding one of Eric Sloane's work on rural America, have a three-fold value. In the first instance, they serve as an accurate documentary record of features and styles that comprise the unique architecture of this area. Secondly, the drawings will prove a boon to those wishing to restore buildings and improve rural properties along traditional lines. And finally, the artistic merit and natural charm of the sketchbook should appeal to all those who possess an aesthetic appreciation for the Southwestern landscape, be it natural or that part which is manmade.