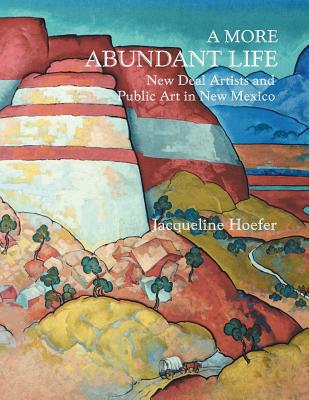 A More Abundant Life
New Deal Artists and Public Art in New Mexico
Paperback

* Individual store prices may vary.
Other Editions of This Title:
Hardcover (11/1/2002)
Description
Artists began coming to New Mexico in the late nineteenth century. They came from everywhere, from Maine to California and a few from Europe. They were attracted by the dazzling New Mexican landscape, the hospitality of town and village life, and very important, the Indian and Hispanic cultures that had shaped the artistic imagination of New Mexico for centuries. From an artist's point of view it was a rich mix, and between art and odd jobs, they managed to make a living. Until the Great Depression of the 1930s. Then, as the artist Louie Ewing said, "the jobs ran out." No matter what you were willing to do, there was no work, and nobody was buying pictures and pots. Help came from Washington. New Deal planners offered artists jobs to "beautify" the community. Almost immediately, artists in New Mexico picked up their brushes and chisels, and for almost ten years, between 1933 and 1943, signed onto Federal programs. How did artists, traditionally loners, like working for the government? When the Santa Fe artist William Lumpkins was asked, he said: "We thought it was heaven on earth to be paid to paint." Fortunately, many New Deal artists had the opportunity to speak for themselves. In state-sponsored interviews they tell us in their own words what the New Deal art programs meant to them. Their rich interpretations of that experience and a selection of the work they produced is what this book is about. JACQUELINE HOEFER's publications include "Imagining the Garden," a book of poems; Weather Songs, three poems set to music by Lanham Deal; and critical essays on contemporary writers, among them, Samuel Beckett, Harold Pinter and Norman Mailer. Her latest book is "Night in a White Wood, New and Selected Poems." Mrs. Hoefer received a PhD in American literature from Washington University, St. Louis, Missouri, and in the early 1960s taught at the University of California, Berkeley, and at San Francisco State University. In 1967, she joined her husband Peter Hoefer in starting Hoefer Scientific Instruments, a San Francisco company specializing in producing instruments for biological research. After Peter Hoefer's death in 1987, she carried on as chief executive officer.
Sunstone Press, 9780865343719, 195pp.
Publication Date: September 1, 2011