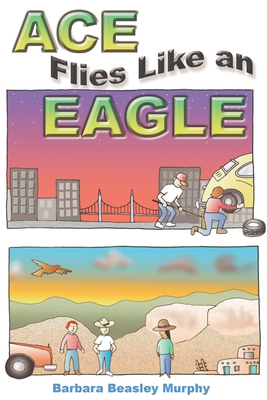 Ace Flies Like an Eagle (Paperback)
Sunstone Press, 9780865344099, 196pp.
Publication Date: October 15, 2003
* Individual store prices may vary.
Description
One summer night his dad says, "HOBART is not my real last name, Ace We're going on a journey to find my roots and my bliss." About to protest that he'd rather hang out at home in New York City with the Falcons, Ace wonders if he's related to someone like Humphrey Bogart or Buffalo Bill. Driving a thousand miles to Kansas City to find out why Dad was placed in an orphanage right after birth, they search for his grandmother, the only one who knows his true identity. "A whole state full of girls and what are we doing?" Ace writes back home. "Looking for an 80 year old woman " But Ace's mysterious grandfather is not in K.C., although sexy Amy Schwarzenegger is. Ace could spend the rest of the summer with her, if it was left up to him, but off he goes to a place in America he never knew existed. Finally, in the high desert of the Rockies, they discover Dad's father. He soon introduces them to a life that makes Ace and his father powerful new men. Even if you've never gone on a "hero's journey" with your dad, and don't want to, read how Ace quits worrying about what others think of him by becoming Eagle Feather in a secret, heroic world. BARBARA BEASLEY MURPHY is the author, along with Judie Wolkoff, of ACE HITS THE BIG TIME and ACE HITS ROCK BOTTOM. A former actress, Barbara is also the author of MIGUEL LOST & FOUND IN THE PALACE (winner of the Zia Award from the New Mexico Press Women's Association and first in a series of novels on the New Mexico State Museums), TRIPPING THE RUNNER, ANNIE AND THE ANIMALS, and ANNIE AT THE RANCH. She received the Christopher Award for THE NY KIDS BOOK and, in addition to a busy writing schedule, participates in a program of building homes for the poor in Mexico. She lives in Santa Fe.