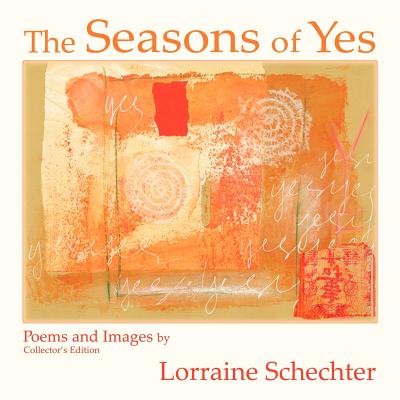 The Seasons of Yes (Collector's Edition)
Paperback

* Individual store prices may vary.
Description
Lorraine Schechter's poems, like the seasons, come in cycles. In the twenty plus years she's been writing poetry, she has enjoyed fertile periods filled with words, interspersed with the language of paint, and more recently, the cello. Like the seasons of her beloved New Mexico, her poems offer a rich range of color, mood, and texture. "This collection of poems comes from a six-year period when the need to write was as urgent as the need for water or food," she says. "I wrote almost daily, much of the time in my journal, but also in the language of rhythm and image joined with the pleasure in word and sound that said 'poem.' The themes are those of a woman at mid-life and reveal my passions: art and nature, family and friends, meditation and yoga." Inspired by her close connection to the earth, immersed in her work in the studio, and committed to her meditation/yoga practice, Lorraine Schechter is a woman who says YES to life. Lorraine Schechter received an MFA from the University of Pennsylvania Graduate School of Fine Arts. She lived in the south of France and the hills of northwestern Connecticut before settling in Santa Fe in 1988. Her mixed media paintings, prints, and constructions are in museum, corporate and private collections throughout the United States. The Museum of Modern Art was the original publisher of her innovative collection of paper sculpture card designs. Her poems have appeared in literary and on-line poetry reviews including the Santa Fe Poetry Broadside, Borderlands: The Texas Poetry Review, Clackamas Literary Review, and numerous poetry anthologies. She is a winner of the Recursos/Southwest Writers Discovery Contest. An arts educator for more than thirty-five years, she recently stepped down as Arts Education Coordinator for the Santa Fe Arts Commission where she developed and directed ArtWorks, a progressive program providing arts education to more than 5,000 Santa Fe elementary school children. She continues to teach and consult in arts education and program development.
Sunstone Press, 9780865346024, 96pp.
Publication Date: August 10, 2007