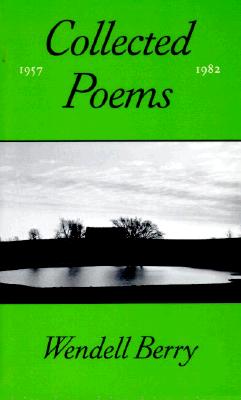 The Collected Poems of Wendell Berry, 1957-1982 (Paperback)
North Point Press, 9780865471979, 288pp.
Publication Date: April 1, 1987
* Individual store prices may vary.
or
Not Currently Available for Direct Purchase
Description
A longtime spokesman for conservation, common sense, and sustainable agriculture, Wendell Berry writes eloquently in several styles and methods. Among other literary forms, he is a poet of great clarity and sureness. His love of language and his care for its music are matched only by his fidelity to the subjects he has written of during his first twenty-five years of work: land and nature, the family and community, tradition as the groundwork for life and culture. His graceful elegies sit easily alongside lyrics of humor and biting satire. Husbandman and husband, philosopher and Mad Farmer, he writes of values that endure, of earthy truths and universal imagery. His vision is one of hope and memory, of determination and faithfulness. For this far-reaching yet portable volume, Berry has chosen nearly two hundred poems from his previous eight collections.
Praise For The Collected Poems of Wendell Berry, 1957-1982…
"Wendell Berry's poetry is a validation of his decision nearly twenty years ago to give up the literary life in New York and seek a deeper bond with his ancestral home, a hillside farm in Henry County, Kentucky, on the Kentucky River. His straightforward search for a life connected to the soil, for marriage as a sacrament and family life, affirms a style that is resonant with the authentic . . . He can be said to have returned American poetry to a Wordsworthian clarity of purpose."--The New York Times Book Review

"Berry is one of those rare individuals who speak to us always of responsibility, of the individual cultivation of an active and aware participation in the arts of life, be they those of composing a poem, preparing a hill for planting, raising a family, working for the good of oneself and one's neighbors, or loving."--The Bloomsbury Review

"For all his earthiness, Mr. Berry is a sophisticated, philosophical poet in the line descending from Emerson and Thoreau . . . Ranging from the 'known' to the 'celestial,' from rich concreteness to prophetical intonations, Mr. Berry's Collected Poems establishes him as a major poet of our time."--The Baltimore Sun

"[Berry's poems] shine with the gentle wisdom of a craftsman who has thought deeply about the paradoxical strangeness and wonder of life."--The Christian Science Monitor
Advertisement