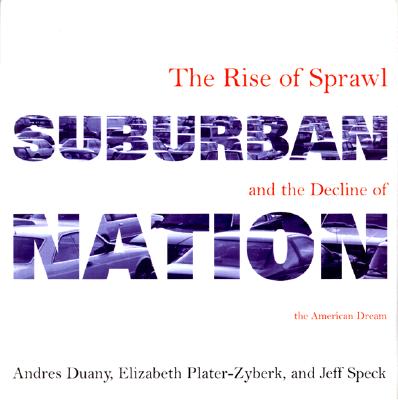 Suburban Nation
The Rise of Sprawl and the Decline of the American Dream
Hardcover

* Individual store prices may vary.
Other Editions of This Title:
Paperback (4/1/2001)
Description
A manifesto by America's most controversial and celebrated town planners, proposing an alternative model for community design.

There is a growing movement in North America to put an end to suburban sprawl and to replace the automobile-based settlement patterns of the past fifty years with a return to more traditional planning principles. This movement stems not only from the realization that sprawl is ecologically and economically unsustainable but also from a growing awareness of sprawl's many victims: children, utterly dependent on parental transportation if they wish to escape the cul-de-sac; the elderly, warehoused in institutions once they lose their driver's licenses; the middle class, stuck in traffic for two or more hours each day.

Founders of the Congress for the New Urbanism, Andres Duany and Elizabeth Plater-Zyberk are at the forefront of this movement, and in Suburban Nation they assess sprawl's costs to society, be they ecological, economic, aesthetic, or social. It is a lively, thorough, critical lament, and an entertaining lesson on the distinctions between postwar suburbia-characterized by housing clusters, strip shopping centers, office parks, and parking lots-and the traditional neighborhoods that were built as a matter of course until mid-century. It is an indictment of the entire development community, including governments, for the fact that America no longer builds towns. Most important, though, it is that rare book that also offers solutions.
Praise For Suburban Nation: The Rise of Sprawl and the Decline of the American Dream…
"An essential text for our time . . . Not only a passionately argued, carefully reasoned dissection of the mess that is becoming man-made America but also a clear program of steps that can be taken to enhance the humanity of both our suburbs and our cities while conserving our rapidly dwindling countryside. Everyone who cares about the future of our American way of life should read this book."—Robert A.M. Stern, Dean, Yale School of Architecture

"[This book offers] a clear-eyed, closely reasoned description by its founders of the most important movement in American architecture and city making of this generation: the New Urbanism, based not upon the 'nostalgia' for which it has been unjustly criticized but upon solid architectural, historical, and sociological analysis, and hard common sense."—Vincent Scully

"Suburban Nation dissects the physical design of the suburbs brilliantly . . . [the authors] set forth more clearly than anyone has done in our time the elements of good town planning."--The New Yorker

"A powerful manifesto . . . No one has yet produced a work as pithy or likely to win converts to the cause as this briskly written and persuasive brief."--The Boston Sunday Globe
North Point Press, 9780865475571, 256pp.
Publication Date: March 1, 2000
or
Not Currently Available for Direct Purchase