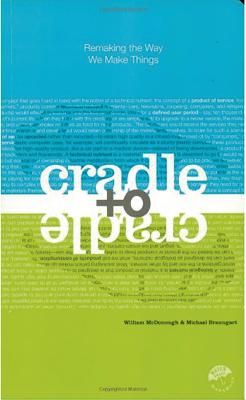 Cradle to Cradle
Remaking the Way We Make Things
Paperback

* Individual store prices may vary.
Other Editions of This Title:
MP3 CD (8/11/2008)
Compact Disc (8/11/2008)
Description
A manifesto for a radically different philosophy and practice of manufacture and environmentalism

"Reduce, reuse, recycle" urge environmentalists; in other words, do more with less in order to minimize damage. But as this provocative, visionary book argues, this approach perpetuates a one-way, "cradle to grave" manufacturing model that dates to the Industrial Revolution and casts off as much as 90 percent of the materials it uses as waste, much of it toxic. Why not challenge the notion that human industry must inevitably damage the natural world?

In fact, why not take nature itself as our model? A tree produces thousands of blossoms in order to create another tree, yet we do not consider its abundance wasteful but safe, beautiful, and highly effective; hence, "waste equals food" is the first principle the book sets forth. Products might be designed so that, after their useful life, they provide nourishment for something new-either as "biological nutrients" that safely re-enter the environment or as "technical nutrients" that circulate within closed-loop industrial cycles, without being "downcycled" into low-grade uses (as most "recyclables" now are).

Elaborating their principles from experience (re)designing everything from carpeting to corporate campuses, William McDonough and Michael Braungart make an exciting and viable case for change.
Praise For Cradle to Cradle: Remaking the Way We Make Things…
"Environmentalists too rarely apply the ecological wisdom of life to our problems. Asking how a cherry tree would design an energy efficient building is only one of the creative 'practices' that McDonough and Braungart spread, like a field of wild flowers, before their readers. This book will give you renewed hope that, indeed, 'it is darkest before the dawn'." —Carl Pope, Executive Director of the Sierra Club

"Achieving the great economic transition to more equitable, ecologically sustainable societies requires nothing less than a design revolution--beyond today's fossilized industrialism. This enlightened and enlightening book shows us how--and indeed, that 'God is in the details.' A must for every library and every concerned citizen." —Hazel Henderson, author of Building a Win-Win World and Beyond Globalization: Shaping a Sustainable Global Economy

"[McDonough and Braungart's] ideas are bold, imaginative, and deserving of serious attention." —Ben Ehrenreich, Mother Jones magazine

"[A] clear, accessible manifesto... the authors' original concepts are an inspiring reminder that humans are capable to much more elegant environmental solutions than the ones we've settled for in the last half-century." —Publishers Weekly

"A readable provocative treatise that 'gets outside the box' in a huge way. Timely and inspiring." —Kirkus Reviews

"Our planet is alive and the wondrous web of biodiversity provides us with all we need -- clean air, water, soil, and energy, as well as food, medicine, resources. Whatever we do, that's what should be the highest priority for protection and we have to adapt everything else to that end. With this book, McDonough and Braungart open our eyes to the way to genuine sustainability by the study of nature and mimicking her ways. This is a groundbreaking book that should be the Bible for the Second Industrial Revolution." —Dr. David Suzuki, Professor Emeritus, University of British Columbia
North Point Press, 9780865475878, 208pp.
Publication Date: April 22, 2002
About the Author
Architect William McDonough is an architect and the founding principal of William McDonough + Partners, an architecture and community design firm based in Charlottesville, Virginia; MBDC, a firm that assists companies in designing profitable and environmentally intelligent solutions; McDonough Innovation, where he is able to advise business and provide targeted ideas and strategic business solutions. A highly regarded speaker and writer, William McDonough's co-authored Cradle to Cradle: Remaking The Way We Make Things has played an influential role in the sustainability movement.  McDonough partnered with Stanford University Libraries in 2012, on a "living archive" of his work and communications.  At the 2014 World Economic Forum (WEF) in Switzerland, McDonough participated as a leader, presenter and convener, and made sustainability a primary focus, for the first time at the WEF.    In 1999 Time magazine recognized him as a "Hero for the Planet," stating "his utopianism is grounded in a unified philosophy that—in demonstrable and practical ways—is changing the design of the world." In 1996, he received the Presidential Award for Sustainable Development, the highest environmental honor given by United States.  Additionally, in 2009, McDonough led the founding of the  Cradle to Cradle Products Innovation Institute to donate the Cradle to Cradle Certified™ Products Program to the public.  In 2014, William McDonough was appointed by the World Economic Forum to Chair of the Meta-Council on the Circular Economy.  
Michael Braungart is a chemist and the founder of the Environmental Protection Encouragement Agency (EPEA) in Hamburg, Germany. Prior to starting EPEA, he was the director of the chemistry section for Greenpeace. Since 1984 he has been lecturing at universities, businesses, and institutions around the world on critical new concepts for ecological chemistry and materials flow management. Dr. Braungart is the recipient of numerous honors, awards, and fellowships from the Heinz Endowment, the W. Alton Jones Foundation, and other organizations.