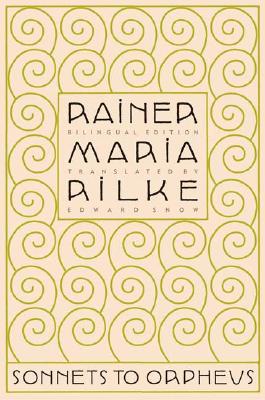 Sonnets to Orpheus
Hardcover

* Individual store prices may vary.
Other Editions of This Title:
Paperback (4/17/2006)
Hardcover (12/10/2019)
Paperback (9/9/2019)
Hardcover (2/28/2015)
Paperback (5/22/2001)
Paperback (5/18/2005)
Hardcover (1/15/2008)
Paperback (4/12/2002)
Hardcover (4/12/2002)
Paperback (10/1/2012)
Description
Breathing, you invisible poem!
World-space in pure continuous interchange
with my own being. Equipose
in which I rhythmically transpire.

Written only four years before Rilke's death, this sequence of sonnets, varied in form yet consistently structured, stands as the poet's final masterwork. In these meditations on the constant flux of our world and the ephemerality of experience, Rilke envisions death not only as one among many of life's transformations but also as an ideally receptive state of being. Because Orpheus has visited the realm of death and returned to the living, his lyre, a unifying presence in these poems, is an emblem of fluidity and musical transcendence. And Eurydice, condemned to Hades as a result of Orpheus's backward glance, becomes in Rilke's universe a mythical figure of consolation and hope.

Edward Snow, in his translations of New Poems, The Book of Images, Uncollected Poems, and Duino Elegies, has emerged as Rilke's most able English-language interpreter. Adhering faithfully to the intent of Rilke's German while constructing nuanced, colloquial poems in English, Snow's Sonnets to Orpheus should serve as the authoritative translation for years to come.
Praise For Sonnets to Orpheus…
Praise for Duino/Elegies (NPP, 2000)

"[Snow's work stands the highest test that can be put to any translation: it would be a worthy poetic achivement even without the original to prop it up."
-- Brian Phillips, The New Republic

Praise for The Book of Images (NPP, 1994)

"Edward Snow, who so insightfully translated the two volumes of Rilke's New Poems, has now turned to The Book of Images, one of the poet's most startling and diverse masterworks. Snow has rendered with great skill and accuracy a work both familiar and unknown, more complicated and more immediate than many have suspected, at once grave, mysterious, and beautiful." --Edward Hirsch

Praise for New Poems (NPP, 1987):

Rilke's first great work . . . [Snow's translation] is clear, accurate, and fluent."
--Stephen Mitchell

Praise for Duino Elegies (NPP, 2000)

"I have been engrossed in English versions of Duino Elegies for years, and Snow's is by far the most radiant and, as far as I can tell, the most faithful . . . Reading this rendition provided new revelations into Rilke's symbolic landscapes of art, death, love and time."
--Frederic Koeppel, The Commercial Appeal (Memphis)
North Point Press, 9780865476110, 144pp.
Publication Date: April 28, 2005
About the Author
Edward Snow is a professor of English at Rice University. He is the recipient of an Academy of Arts and Letters Award for his Rilke translations and has twice received the Academy of American Poets' Harold Morton Landon Translation Award.
or
Not Currently Available for Direct Purchase