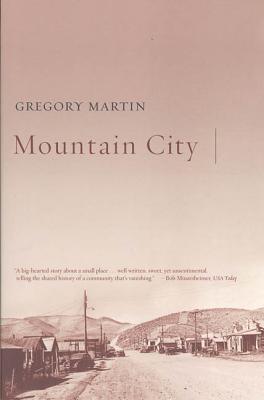 Mountain City (Paperback)
Farrar, Strauss & Giroux-3pl, 9780865476165, 204pp.
Publication Date: June 4, 2001
Description
By the end of Gregory Martin's unsentimental but affecting memoir, only thirty-one people live in remote Mountain City, Nevada, and none of them are children. The town's abandoned mines are testimony to the cycle of promise, exploitation, abandonment, and attrition that has been the repeated story of the West. Yet the comings and goings at Tremewan's, the general store Martin's family has run for more than forty years, reveal a remarkably vibrant community that includes salty widows, Native Americans from a nearby reservation, and a number of Martin's deeply idiosyncratic Basque-descended relatives. Martin observes them as they persist in a difficult but rewarding existence and celebrates, with neither pity nor regret, the large and small dramas of their lives and their stubborn attachment to a place that seems likely to disappear in his lifetime.
About the Author
Gregory Martin has an M.F.A. in creative writing from the University of Arizona. He lives with his wife and son in Seattle.
Praise For Mountain City…
". . . well written, sweet, yet unsentimental, telling the shared history of a community that's vanishing." --Bob Minzesheimer, USA Today

"A crisp elegy to an almost-vanished American West." --Megan Harlan, Entertainment Weekly

". . . Mountain City . . . is the winter view from northern Nevada. More than anything, the old need to be touched . . ." --Richard Eder, The New York Times Book Review
Advertisement