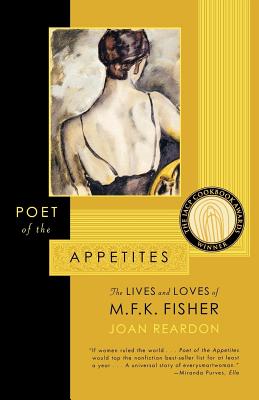 Poet of the Appetites (Paperback)
The Lives and Loves of M.F.K. Fisher
North Point Press, 9780865476219, 528pp.
Publication Date: October 12, 2005
Other Editions of This Title:
Hardcover (10/14/2004)
* Individual store prices may vary.
Description
In more than thirty books, M.F.K. Fisher forever changed the way Americans understood not only the art of eating but the art of living. Whether considering the oyster or describing how to cook a wolf, she addressed the universal needs "for food and security and love." Readers were instantly drawn into her circle of husbands and lovers, artists and artisans; they felt they knew Fisher herself, whether they encountered her as a child with a fried-egg sandwich in her pocket, a young bride awakening to the glories of French food, or a seductress proffering the first peas of the season.
Oldest child, wife, mother, mistress, self-made career woman, trailblazing writer-Fisher served up each role with panache. But like many other master stylists, she was also a master mythologizer. To retell her story as it really happened, Joan Reardon has made the most of her access to Fisher, her family and friends, and her private papers. This multifaceted portrayal of the woman John Updike christened our "poet of the appetites" is no less memorable than the personae Fisher crafted for herself.
About the Author
Joan Reardon is the author of four previous books, including M.F.K. Fisher, Julia Child, and Alice Waters, which was nominated for a Julia Child Award. She lives in Lake Forest, Illinois.
Praise For Poet of the Appetites: The Lives and Loves of M.F.K. Fisher…
"If women ruled the world . . . Poet of the Appetites would top the nonfiction bestseller list for a year . . . A universal story of every smart woman." —Miranda Purves, Elle
"Reardon's approach to her complex subject is wonderfully clearheaded--she's appreciative without being worshipful--and her prose is so graceful, sensitive, and dignified that it would have satisfied even a stylist like Fisher." —Laura Shapiro, The New York Times Book Review
"By my lights, the most absorbing between-the-recipes book in years is Joan Reardon's Poet of the Appetites . . . It's a revelation." —Anne Mendelson, Saveur
"M.F.K. Fisher offers an irresistible challenge to any biographer, and Reardon has risen to that challege . . . She does Fisher herself the honor of clear-eyed, smitten but unswooning consideration." —David Kipen, San Francisco Chronicle