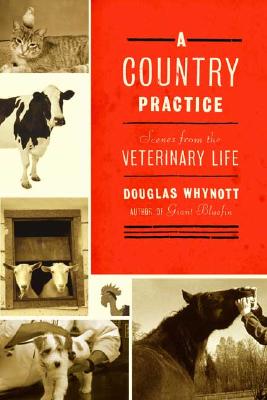 A Country Practice: Scenes from the Veterinary Life (Hardcover)
Scenes from the Veterinary Life
North Point Press, 9780865476479, 304pp.
Publication Date: November 17, 2004
* Individual store prices may vary.
or
Not Currently Available for Direct Purchase
Description
Chuck Shaw is a vanishing breed--an old-style veterinarian with a quarter of a century of experience who runs a "mixed practice" in rural New Hampshire, treating everything from house cats to milk cows. Week after demanding week, he and his associate, horse expert Roger Osinchuk, make house calls and farm calls, and spend sleepless nights on call, to see to the well-being of patients whose only common denominator is an inability to speak. But the practice is booming, and Chuck decides to take on a third associate, Erika Bruner, fresh out of veterinary school.

Whynott follows these three practitioners into the world of contemporary veterinary medicine, as a witness to memorable encounters and daily dilemmas. He watches as they play gynecologist to cows and horses, obstetrician to calves and colts, podiatrist to creatures whose feet are life and death to them. He captures the struggle to learn a difficult craft on the job, describes the confluence of skill and intuition that is the essence of diagnosis, and depicts the ongoing effort to balance the needs and desires of animals and owners without compromising his creed. A Country Practice is a vivid portrait of the rapidly changing face of an ancient profession.
About the Author
Douglas Whynott is the author of "Following the Bloom," "Giant Bluefin," and "A Unit of Water, A Unit of Time." He lives near Hanover, New Hampshire, and directs the M.F.A. writing program at Emerson College in Boston.
Praise For A Country Practice: Scenes from the Veterinary Life…
"I have always been an admirer of Doug Whynott's books, and A Country Practice is his best one yet. Whynott's rendering of these veterinarians' practice, the New England landscape in which they worked, and perhaps most important of all the animals themselves, is a wonder to behold. This is a tender and moving and beautiful book." --Bret Lott, author of A Song I Knew by Heart

Praise for Douglas Whynott's A Unit of Water, A Unit of Time:

"Finely crafted . . . Whynott's attention transcends his ostensible subject until it becomes a profound look at the human condition." --Peter Nichols, The San Francisco Chronicle

"Elegant . . . With understated grace, [Whynott] evokes a sense of maritime community as well as a fierce devotion to boats and a love of the sea . . . E. B. White would have approved of this quietly profound book: it's a real beauty." --Publishers Weekly

"The book is cheerful in its portraits of men engaged in work that satisfies in its difficulty, elegent details, and infallibly stirring results." --The New Yorker

"An affectionate, informative, yet lighter-than-air look at the life and work of Joel White . . . Delightful." --Kirkus Reviews
Advertisement