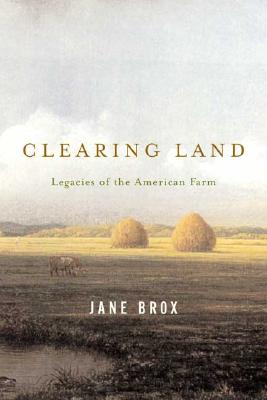 Clearing Land (Hardcover)
Legacies of the American Farm
North Point Press, 9780865476493, 208pp.
Publication Date: September 1, 2004
Other Editions of This Title:
Paperback (9/14/2005)
* Individual store prices may vary.
Description
Though few of us now live close to the soil, the world we inhabit has been sculpted by our long national saga of settlement. At the heart of our identity lies the notion of the family farm, as shaped by European history and reshaped by the vast opportunities of the continent. It lies at the heart of Jane Brox's personal story, too: she is the daughter of immigrant New England farmers whose way of life she memorialized in her first two books but has not carried on.

In this clear-eyed, lyrical account, Brox twines the two narratives, personal and historical, to explore the place of the family farm as it has evolved from the pilgrims' brutal progress at Plymouth to the modern world, where much of our food is produced by industrial agriculture while the small farm is both marginalized and romanticized. In considering the place of the farm, Brox also considers the rise of textile cities in America, which encroached not only upon farms and farmers but upon the sense of commonality that once sustained them; and she traces the transformation of the idea of wilderness--and its intricate connection to cultivation--which changed as our ties to the land loosened, as terror of the wild was replaced by desire for it. Exploring these strands with neither judgment nor sentimentality, Brox arrives at something beyond a biography of the farm: a vivid depiction of the half-life it carries on in our collective imagination.
Praise For Clearing Land: Legacies of the American Farm…
"Jane Brox has written a moving, graceful elegy for the American farm by way of narrating what land has meant to her family and herself. Anyone interested in how land figures in our lives, our history, and our culture will want to read her clear-eyed take on this vital issue. A lovely book." --Larry Zuckerman, author of The Potato

"This masterful collage of memoir and history both explodes and reorders the mythos of the American family farm. Grounded in the experience of her own inherited farm in New England, the author plants words, ideas and emotions with precision and daring." --Betty Fussell, author of The Story of Corn and My Kitchen Wars

Praise for Jane Brox's Five Thousand Days Like This One:

"Brox delicately interweaves the voices of her late father, Henry David Thoreau and immigrant mill workers in the early 20th century in this elegant meditation on life in the Merrimack Valley in Massachussets . . . This is a clear-eyed and cogent history of farming, immigrant life and one American family written in prose that sparkles like the Merrimack River once did." --Publishers Weekly

"[Brox] recounts her family history with nostalgia for the lost beauty of the land but this is no lament. Her writing evokes a love for the past coupled with the hope of saving part of the heritage that shaped the valley and its people. Her story has universal appeal." --School Library Journal

"Lovely . . . This is quite beautiful music, the sound of a family's life that keeps ringing in a daughter's ears." --Kirkus Reviews
or
Not Currently Available for Direct Purchase