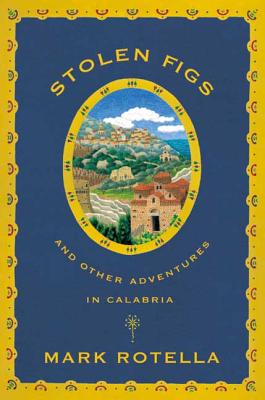 Stolen Figs
And Other Adventures in Calabria
Paperback

* Individual store prices may vary.
Description
Calabria is the toe of the boot that is Italy -- a rugged peninsula where grapevines and fig and olive trees cling to the mountainsides during scorching summers. Calabria is also a seedbed of Italian-American culture; in North America, more people of Italian heritage trace their roots to Calabria than to almost any other region in Italy.

Mark Rotella's Stolen Figs -- named a Best Travel Book of 2003 by Condé Nast Traveler -- is a marvelous evocation of Calabria. A grandson of Calabrese immigrants, Rotella persuades his father to visit the region for the first time in thirty years; once there, he meets Giuseppe, a postcard photographer who becomes his guide. As they travel around the region, Giuseppe initiates Rotella -- and the reader -- into its secrets: how to make a soppressata and 'nduja, and, of course, how to steal a fig without committing a crime. Stolen Figs is a model travelogue -- at once charming and wise, and full of an earthy and unpretentious sense of life that now, as ever, characterizes Calabria and its people.
Praise For Stolen Figs: And Other Adventures in Calabria…
"Mr. Rotella is not writing tourist or voyeur gastronomy; he is writing about food and life. And his Stolen Figs, with its travels and sights and encounters, goes beyond any of these things. It is about life: Calabrians' and ultimately his own." —Richard Eder, The New York Times

"Rotella's account of his travels there, combined with family history and memories, is a charming digression from the unbearably lush memoirs of Tuscany and other more romantic parts of Italy." —The Atlanta Journal-Constitution

"Italian Americans of a new generation are discovering their homeland, and they could not ask for a better guide than Mark Rotella." —Gay Talese

"Stolen Figs is a charming, entertaining, graceful, warm-blooded tale, a genuine contribution to what we know about who we once were." —Bill Tonelli, editor of The Italian American Reader

"Calabria deserves to be discovered and Mark Rotella is an enthusiastic and compassionate guide, traveling from the top to the toe of this least-known region of Italy to uncover the people, the food and the folk traditions that make up his Calabrian heritage." —Mary Taylor Simeti, author of On Persephone's Island: A Sicilian Journal
North Point Press, 9780865476967, 320pp.
Publication Date: May 1, 2004
About the Author
Mark Rotella is the author of Stolen Figs and Other Adventures in Calabria (NPP, 2003). A senior reviews editor at Publishers Weekly, he lives in Montclair, New Jersey, with his wife and their two children.