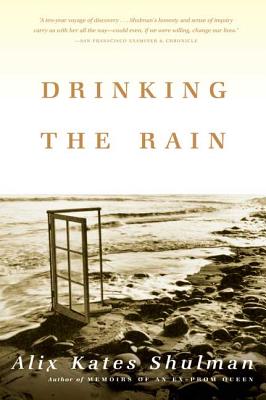 Drinking the Rain (Paperback)
A Memoir
North Point Press, 9780865476974, 256pp.
Publication Date: July 5, 2004
* Individual store prices may vary.
Description
A memoir of spiritualism and self-discovery from the acclaimed, award-winning author
At fifty, Alix Kates Shulman, author of the celebrated feminist novel, Memoirs of an Ex-Prom Queen, left a city life dense with political activism, family and literary community, and went to live alone on an island off the coast of Maine. On a windswept beach, in a cabin with no plumbing, power, or telephone, she found that she was learning to live all over again.
In this luminous, spirited book, she charts her subsequent path as she learned not simply the joys of meditative solitude, but to integrate her new awareness into a busy, committed, even hectic mainland life.
"A ten-year voyage of discovery . . . Shulman's honesty and sense of inquiry carry us with her all the way--could even, if we were willing, change our lives." —San Francisco Sunday Examiner & Chronicle
About the Author
Alix Shulman is the author of four other novels, three memoirs including the award-winning Drinking the Rain, two books on the anarchist Emma Goldman, an essay collection, and three children's books.
Praise For Drinking the Rain: A Memoir…
"A ten-year voyage of discovery . . . Shulman's honesty and sense of inquiry carry us with her all the way--could even, if we were willing, change our lives." —San Francisco Sunday Examiner & Chronicle
The voice that has for three decades provided a lyrical narrative of the changing position of women in American society. —THE NEW YORK TIMES
A thoughtful, lyrical memoir . . . The reader, even the most citified, is carried along as Shulman lives each day. —CHICAGO TRIBUNE
Shulman writes with such crisp clarity, skeptical wit, unegotistical honesty and ravishing sensual beauty that . . . every page thrilled me with a sense of amazed kinship and fresh discovery. —THE TORONTO STAR
Shulman's descriptions of nature are luminous, leaping from page to mind with the strength of simplicity. But it is her descriptions of the changing seasons within herself that raise the memoir to the level of numinous. —AUSTIN CHRONICLE
Add Alix Kates Shulman to the list of national treasuers. —BELLES LETTRES