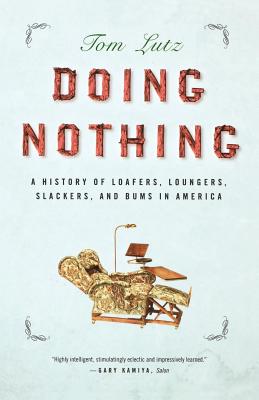 Doing Nothing
A History of Loafers, Loungers, Slackers, and Bums in America
Paperback

* Individual store prices may vary.
Description
Couch potatoes, goof-offs, freeloaders, good-for-nothings, loafers, and loungers: ever since the Industrial Revolution, when the work ethic as we know it was formed, there has been a chorus of slackers ridiculing and lampooning the pretensions of hardworking respectability. Whenever the world of labor changes in significant ways, the pulpits, politicians, and pedagogues ring with exhortations of the value of work, and the slackers answer with a strenuous call of their own: "To do nothing," as Oscar Wilde said, "is the most difficult thing in the world."
Moving with verve and wit through a series of case studies that illuminate the changing place of leisure in the American republic, Doing Nothing revises the way we understand slackers and work itself.
Praise For Doing Nothing: A History of Loafers, Loungers, Slackers, and Bums in America…
"Highly intelligent, stimulatingly eclectic, and impressively learned." —Gary Kamiya, Salon
"Enjoyable and interesting . . . As much about the nature of work as it is about trying to avoid it." —Matthew Price, Los Angeles Times
"Incredibly engaging and offbeat meditation . . . A deliciously wild ride." —Elaine Margolin, The Denver Post
Farrar, Straus and Giroux, 9780865477377, 384pp.
Publication Date: May 15, 2007
About the Author
Tom Lutz 's previous books include Crying: A Natural and Cultural History of Tears; American Nervousness, 1903: An Anecdotal History; and Cosmopolitan Vistas. He lives in Los Angeles and Iowa City.