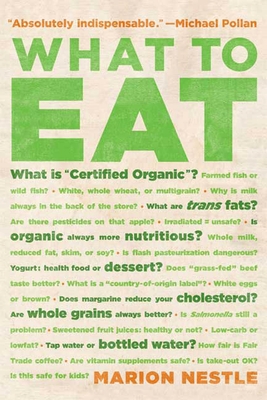 What to Eat (Paperback)
North Point Press, 9780865477384, 624pp.
Publication Date: April 17, 2007
Other Editions of This Title:
Hardcover (4/17/2007)
* Individual store prices may vary.
Description
Since its publication in hardcover last year, Marion Nestle's What to Eat has become the definitive guide to making healthy and informed choices about food. Praised as "radiant with maxims to live by" in The New York Times Book Review and "accessible, reliable and comprehensive" in The Washington Post, What to Eat is an indispensable resource, packed with important information and useful advice from the acclaimed nutritionist who "has become to the food industry what . . . Ralph Nader [was] to the automobile industry" (St. Louis Post-Dispatch).
How we choose which foods to eat is growing more complicated by the day, and the straightforward, practical approach of What to Eat has been praised as welcome relief. As Nestle takes us through each supermarket section—produce, dairy, meat, fish—she explains the issues, cutting through foodie jargon and complicated nutrition labels, and debunking the misleading health claims made by big food companies. With Nestle as our guide, we are shown how to make wise food choices—and are inspired to eat sensibly and nutritiously.
Now in paperback, What to Eat is already a classic—"the perfect guidebook to help navigate through the confusion of which foods are good for us" (USA Today).
About the Author
Marion Nestle is the most respected nutritionist in America today. Her book Food Politics was given the James Beard Award, the top award for food writing; that book and its follow-up, Safe Food, are backlist classics for the University of California Press. A longtime nutritionist and former head of the Department of Nutrition, Food Studies, and Public Health at New York University, Nestle lectures worldwide and was featured in the movie Super Size Me. A native New Yorker, she raised her family in California and now lives in Greenwich Village.
Praise For What to Eat…
"According to nutritionist Nestle, the increasing confusion among the general public about what to eat comes from two sources: experts who fail to create a holistic view by isolating food components and health issues, and a food industry that markets items on the basis of profits alone. She suggests that, often, research findings are deliberately obscure to placate special interests. Nestle says that simple, common-sense guidelines available decades ago still hold true: consume fewer calories, exercise more, eat more fruits and vegetables and, for today's consumers, less junk food. The key to eating well, Nestle advises, is to learn to navigate through the aisles (and thousands of items) in large supermarkets. To that end, she gives readers a virtual tour, highlighting the main concerns of each food group, including baby, health and prepared foods, and supplements. Nestle's prose is informative and entertaining; she takes on the role of detective, searching for clues to the puzzle of healthy and satisfying nutrition. Her intelligent and reassuring approach will likely make readers venture more confidently through the jungle of today's super-sized stores." —Publishers Weekly
"Nutritionist Nestle's newest volume aims to help the American consumer determine what best to eat to improve or to maintain good health. Pursuing what she hopes is a unique and beneficial approach, she surveys a supermarket on a food-by-food basis, noting for each category what nutritional benefits are claimed and what really are the advantages and dangers in consuming any grocery offering. She documents how food industry concerns have perverted nutritional and origin labeling, dismayed that economics has once more trumped open information. She assesses the roles of trans-fats in processed food, methylmercury in fish, calcium in dairy products, salmonella in fresh eggs, sugar in cereals, and genetic modification. Nestle is particularly concerned that consumers understand all the implications, good and bad, of the perennially contentious "organic" label." —Booklist
"[This] book is for anyone who has read a food label; been annoyed at how often their children nag them for certain cereals; wondered about the difference between natural and organic; or questioned who is minding the store when it comes to nutrition and food safety." —Marian Burros, The New York Times