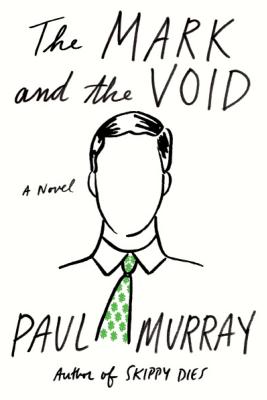 The Mark and the Void
A Novel
Hardcover

* Individual store prices may vary.
Other Editions of This Title:
Paperback (11/8/2016)
Compact Disc (12/3/2019)
MP3 CD (5/17/2016)
Description
Short-listed for the Bord Gáis Energy Irish Book Awards in the Eason Book Club Novel of the Year category.
What links the Investment Bank of Torabundo, www.myhotswaitress.com (yes, with an s, don't ask), an art heist, a novel called For the Love of a Clown, a six-year-old boy with the unfortunate name of Remington Steele, a lonely French banker, a tiny Pacific island, and a pest control business run by an ex-KGB agent?
The Mark and the Void is Paul Murray's madcap new novel of institutional folly, following the success of his wildly original breakout hit, Skippy Dies. While marooned at his banking job in the bewilderingly damp and insular realm known as Ireland, Claude Martingale is approached by a down-on-his-luck author, Paul, looking for his next great subject. Claude finds that his life gets steadily more exciting under Paul's fictionalizing influence; he even falls in love with a beautiful waitress. But Paul's plan is not what it seems—and neither is Claude's employer, the Investment Bank of Torabundo, which swells through dodgy takeovers and derivatives trading until—well, you can probably guess how that shakes out.
The Mark and the Void is the funniest novel ever written about the recent financial crisis, and a stirring examination of the deceptions carried out in the names of art and commerce.
Praise For The Mark and the Void: A Novel…
"Paul Murray has produced a comic classic that cements his status as one of the most gifted novelists of his generation . . . The Mark and the Void is a funny, angry, and unputdownable novel." —Huston Gilmore, Daily Express
"The Mark and the Void is Murray's best book yet-a wildly ambitious novel and a scabrously funny yet deeply humane satire on the continuing fallout of the biggest financial crisis in seventy-five years." —The Bookseller
"With The Mark and the Void, Paul Murray has done the impossible: he's written a novel about international finance that not only isn't dense, boring, or annoyingly didactic, but is, in fact, a hilarious page-turner with a beating human heart that nonetheless provides real insight into the ongoing economic crisis. To put all of these elements in a pot and alchemically produce something so brilliant and cohesively constructed, one might assume Paul Murray is a witch. I think he's simply a great writer." —Adam Wilson, author of Flatscreen and What's Important Is Feeling
"People always tell me, 'If you love Paul Murray so much, why don't you marry him?' Now thanks to recent legislation in his native Ireland, I finally can. And so should you, reader. The Mark and the Void not only monetizes the death of the novel, but makes us believe in its resurrection. Praise the Lord for Paul Murray's big brain and tender heart." —Gary Shteyngart, author of Little Failure
"[The Mark and the Void] is utterly original and very funny." —Anna Carey, The Irish Times
"Darkly comic . . . thoughtful and entertaining. [Murray's] creative energy sends the book in many directions . . . but the same may be said of Dickens, with whom [he] also shares wit, sympathy, and a purposeful sense of mischief." —Kirkus Reviews (starred review)
"[The Mark and the Void's] successes are serious and impressive. Fans of Skippy Dies and Murray's first novel, An Evening of Long Goodbyes, will not be surprised to hear that it is very funny . . . But there is profundity beyond the laughter, not least in the book's depiction of the bleak emptying-out of a country. Rainswept plazas, crumbling Celtic Tiger penthouses, tottering banks surrounded by protestors dressed up as zombies." —Alex Clark, The Guardian
"Murray's 2010 novel Skippy Dies earned the Irishman worldwide acclaim as a writer enviably adept at both raucous humor and bittersweet truth. His new novel, perhaps the funniest thing to come out of the Irish economic collapse, follows Claude, a low-level bank employee who, while his employers drive the country steadily towards ruin, falls in with a struggling novelist intent on making Claude's life worthy of telling." —The Millions, "Most Anticipated" Fall 2015 book preview
Farrar, Straus and Giroux, 9780865477551, 480pp.
Publication Date: October 20, 2015
About the Author
Paul Murray was born in 1975. He studied English literature at Trinity College in Dublin and creative writing at the University of East Anglia. His first novel, An Evening of Long Goodbyes, was short-listed for the Whitbread Prize in 2003 and was nominated for the Kerry Irish Fiction Award. Skippy Dies, his second novel, was long-listed for the Booker prize and was a finalist for the National Book Critics Circle Award.
or
Not Currently Available for Direct Purchase