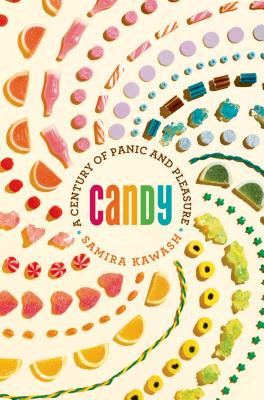 Candy
A Century of Panic and Pleasure
Hardcover

* Individual store prices may vary.
Other Editions of This Title:
Paperback (10/14/2014)
Description
For most Americans, candy is an uneasy pleasure, eaten with side helpings of guilt and worry. Yet candy accounts for only 6 percent of the added sugar in the American diet. And at least it's honest about what it is—a processed food, eaten for pleasure, with no particular nutritional benefit. So why is candy considered especially harmful, when it's not so different from the other processed foods, from sports bars to fruit snacks, that line supermarket shelves? How did our definitions of food and candy come to be so muddled? And how did candy come to be the scapegoat for our fears about the dangers of food?
In Candy: A Century of Panic and Pleasure, Samira Kawash tells the fascinating story of how candy evolved from a luxury good to a cheap, everyday snack. After candy making was revolutionized in the early decades of mass production, it was celebrated as a new kind of food for energy and enjoyment. Riding the rise in snacking and exploiting early nutritional science, candy was the first of the panoply of "junk foods" that would take over the American diet in the decades after the Second World War—convenient and pleasurable, for eating anytime or all the time.
And yet, food reformers and moral crusaders have always attacked candy, blaming it for poisoning, alcoholism, sexual depravity and fatal disease. These charges have been disproven and forgotten, but the mistrust of candy they produced has never diminished. The anxiety and confusion that most Americans have about their diets today is a legacy of the tumultuous story of candy, the most loved and loathed of processed foods.
Candy is an essential, addictive read for anyone who loves lively cultural history, who cares about food, and who wouldn't mind feeling a bit better about eating a few jelly beans.
Praise For Candy: A Century of Panic and Pleasure…
"Lively, engaging, deliciously descriptive . . . Kawash makes a balanced case against accepting ultraprocessed foods at face value. With a helpful heaping of information in every verbal bite, this fascinating social and culinary history gives readers a deeper understanding of the powerful forces at work behind the brightly colored wrappers." —Bridget Thoreson, Booklist (starred review)
"Sweetly exhaustive social history . . . The author makes able use of her learning to illuminate these matters in prose that is blessedly free of jaw-busting jargon." —Daniel Akst, The Wall Street Journal
"[The] future, of course, is now, when so-called granola bars, breakfast bars, and energy bars are, in fact, candy bars . . . None of these things, enriched to the hilt though they may be, are any better for us than a Snickers bar. Nor, for the most part, are cookies with whole grains in them, or 'fruit' snacks for children, which Kawash refers to, in what may be my favorite phrase in any book ever, as 'candy training pants'. . . Marvelous." —Melanie Rehak, Bookforum
"This title is no insubstantial confection. Its thoroughness and documentation will appeal to those with an avid interest in the history of candy consumption and American culture." —Courtney Greene, Library Journal
"If you're a self-admitted, guilt-ridden sweet-tooth, perhaps Samira Kawash's Candy: A Century of Panic and Pleasure will soothe your jangled nerves. Even if you're not, Candy is still an eye-opening, myth-busting and, simply enough, interesting read." —Leslie Ken Chu, Vancouver Weekly
"Kawash dives deep into the American relationship with candy, finding irrational and interesting ideas everywhere . . . [She is] interested in untangling the threads of control, danger and temptation that candy has carried since it became widely available in the 1880s." —Julia Moskin, The New York Times
"Though the subject matter may be fluffy, the treatment is substantive and significant, representing an important contribution to the literature about what, and how, we eat in 21st-century America.." —Kirkus (starred review)
"In her proficient cultural study, Kawash looks at the manipulation of glucose, fructose, and creative derivatives of corn and soy in the ever-more-pervasive move toward processed foods, which blurs the definition of candy." —Publisher's Weekly
"In this delightful, intriguing account of candy in the United States, Samira Kawash argues that we must stop vilifying this sugary treat and start taking it more seriously--as a cultural icon, a marker of gender identity, a prototype of the marketing of processed foods, a source of pleasure for children and adults, and, for good or ill, a contributor to daily diets." —Marion Nestle, Paulette Goddard Professor of Nutrition, Food Studies, and Public Health, New York University, and author of What to Eat
"This fun and substantive guide is a unique take on the history of candy, examining every argument and complementing candy lovers' belief in 'excess in moderation'." —Dylan Lauren, owner of Dylan's Candy Bar
"In a book that's both erudite and entertaining, Samira Kawash explores the history of candy and candified food--and comes down on the side of candy." —Jeri Quinzio, author of Of Sugar and Snow: A History of Ice Cream Making
Farrar, Straus and Giroux, 9780865477568, 416pp.
Publication Date: October 15, 2013
About the Author
Samira Kawash has a Ph.D. in literary studies from Duke University and is a professor emerita at Rutgers University. She is the author of Dislocating the Color Line and the founder of the website Candyprofessor.com. Kawash lives in Brooklyn.
or
Not Currently Available for Direct Purchase