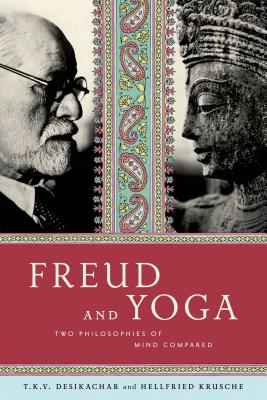 Freud and Yoga
Two Philosophies of Mind Compared
Paperback

* Individual store prices may vary.
Description
Lessons from a great yoga master and an eminent psychoanalyst that explore what psychotherapy and yoga philosophy have in common

Yoga philosophy and Freud's revolutionary approach to psychology could not have been developed in more different times, places, or cultural conditions. And yet these two profound and dynamic systems of understanding human behavior, emotions, perception, and what's essential in our existence have an astonishing amount to share. What we learn by comparing their similarities as well as their differences can enhance how we comprehend our lives and our potential for change.
In Freud and Yoga, the great yoga master T.K.V. Desikachar and the eminent psychoanalyst Hellfried Krusche examine forty classic sayings, or sutras, from the vantage point of their respective disciplines. Through clear, candid conversations that draw on long experience and are illustrated by case studies from the clinic and the shala, these two experts explain the concepts, terms, forces, and processes in their traditions.
Therapists and patients, yoga adepts and professionals, and readers interested in psychology and spirituality will find this unique investigation fascinating, enriching, and useful. In a time when Western and Eastern modalities have ever more to offer each other, Freud and Yoga is a watershed work—one that draws us closer to understanding our own nature and the deep workings of the human psyche.
Praise For Freud and Yoga: Two Philosophies of Mind Compared…
"An inspiring read for anyone interested in yoga philosophy, psychoanalysis, and optimum mental health." —Amy Weintraub, author of Yoga for Depression and Yoga Skills for Therapists

"This gem of a book is a must-read." —Leslie Kaminoff, coauthor of Yoga Anatomy

"The great thing about this book is that it is a pure dialogue between two masters, each speaking from the heart of his discipline: T.K.V. Desikachar, a revered yoga teacher and a learned scholar of the Yogasutra, which has transmitted a comprehensive understanding of the human mind from generation to generation for thousands of years, and Hellfried Krusche, a psychoanalyst in the classical Freudian vein. There are no additional voices. We hear for ourselves where these two traditions differ and where they meaningfully come together, as though we were listening to contrapuntal music like that of Bach. The ways in which they don't synchronize are as fascinating as the ways in which they do--and the ways in which they do are significant enough to deepen our understanding of both. One comes away from reading Freud and Yoga reminded that the cure of symptoms is only one goal of psychoanalysis, just as physical fitness is not the whole point of yoga. As Desikachar and Krusche discuss them, both of these traditions could be called applied philosophy: they offer disciplined self-exploration that can help one attain the clarity to see things as they are and to live more fully in the present moment." —Michael Vincent Miller, Ph.D., author of Intimate Terrorism: The Crisis of Love in an Age of Disillusion and Teaching a Paranoid to Flirt: The Poetics of Gestalt Therapy
North Point Press, 9780865477599, 224pp.
Publication Date: December 2, 2014
About the Author
Hellfried Krusche is a psychotherapist and psychoanalyst. He is a training analyst and supervisor for the International Psychoanalytic Association in Germany and lectures widely in Europe and Britain on yoga and psychoanalysis. Born in Aachen in 1951, he lives in Cologne where he has a private practice.
T.K.V. Desikachar, Krishnamacharya's son and longtime student, is one of the world's foremost teachers of yoga. A renowned authority on the therapeutic uses of yoga, he is the founder of the Krishnamacharya Yoga Mandiram and the cofounder of the Krishnamacharya Healing and Yoga Foundation, both of which are based in Chennai.