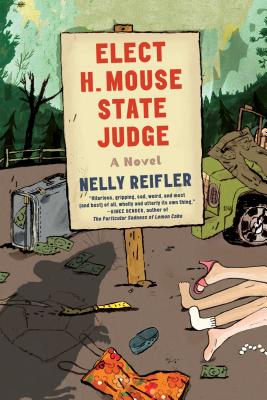 Elect H. Mouse State Judge (Paperback)
A Novel
Farrar, Straus and Giroux, 9780865477650, 112pp.
Publication Date: August 6, 2013
* Individual store prices may vary.
Description
A terrible crime occurs in Elect H. Mouse State Judge.
Two young girl are abducted and held hostage by a band of religious fanatics. The girls' anxious father, a politician on the eve of an important election, has reasons of his own not to go to the police, so he hires a pair of shady private eyes to investigate. All the elements of a classic noir—except that the kidnapped girls are mice, the abductors are Sunshine Family dolls, and the detectives are Barbie and Ken.
Part 1970s childhood dreamscape, part Raymond Chandler, this is a world both familiar and transformed. Sex shops, illicit affairs, spies, political hypocrisy, and dangerous zealots may coexist with Barbie and Ken's acrobatic poolside sex, but the crises of faith that Nelly Reifler's characters face are as real as our own. Elect H. Mouse State Judge is an unusual—and masterful—blend of irony and tenderness, and a moving portrayal of a father trying and failing to do the right thing.
About the Author
Nelly Reifler is the author of a collection of short stories, See Through. Her stories have appeared in publication such as McSweeney's, BOMB, Nerve, jubilat, and The Milan Review, and have been anthologized in books including Lost Tribe: Jewish Fiction from the Edge and FOUND magazine's Requiem for a Paper Bag. She teaches at Sarah Lawrence College and Pratt Institute, and she is an editor at Post Road. She lives in Saugerties, New York.
Praise For Elect H. Mouse State Judge: A Novel…
"William Blake laid it out: Stories are those of innocence or of experience; any messy gray area between the two, presumably, belongs to J.D. Salinger, Judy Blume and whoever else has taught teens important coming-of-age lessons. But what if precious childhood emblems came to life and the limbo between guilelessness and corruption became the norm? . . . While toying with the reader's expectations based on well-known anthropomorphic animal tomes, Reifler does an excellent job weaving between chipper and creepy. Though short and sweet, this novella of lascivious Barbies and political mice leaves a lingering suspicion that purity and worldliness are not far from one another." —Matthew Love, TimeOut New York
"A hilariously weird little book . . . reminiscent of Toy Story with a Coen Brothers twist." —Tyler Coates, Flavorwire
"Nelly Reifler's joyride of a first novel, Elect H. Mouse State Judge joins the pantheon of morality tales centered on rodents--Aesop's Fables, Maus, An American Tail: Fievel Goes West. Her slim volume sets itself apart from the pack with a riveting detective story that remixes Dashiell Hammett and Toy Story, along with a freakish sense of humor. This kooky playground disturbs all the more for its seeming innocence . . . Far from cartoonish, the mice and dolls that people Reifler's novel transcend their plastic or furry bodies." —Zyzzyva
"[Reifler] has skillfully packed big elements--childhood, suspense, sex, longing, violence, religion, love . . . [She] easily works on many levels at once, mini to meta. Within this dollhouse-scaled world dwell very human extremes . . . Part Beatrix Potter, part Kafka, it's a total delight." —Chronogram
"To Kafka's 'Josephine, the Mouse-Singer' and Bolaño's 'Police Rat' and Mrs. Frisby and that one A. M. Homes story where the kid gets it on with a Barbie doll, we must now add Nelly Reifler's first novel. It's a fast-paced caper--politician's kids get abducted, private eyes go searching--but with a major twist: H. Mouse is a mouse, and both perps and dicks are dolls. Shrewdly, Reifler serves this concoction neat; what could have been cheap thrills give way to weirder and more surprising effects." —Garth Risk-Hallberg, The Millions
"Hilarious, gripping, sad, weird, and most (and best) of all, wholly and utterly its own thing." —Aimee Bender, author of The Particular Sadness of Lemon Cake
"A playtime serial full of Peril! Corruption! Sex! Betrayal! It is, to be sure, a strange little book. Go ahead: pick it up. It'll only hurt a little." —Jim Lewis, author of The King Is Dead
"Like a Toy Story / Wind in the Willows mash-up deejayed by Philip K. Dick, Nelly Reifler's Elect H. Mouse State Judge is a book as weird and wonderful as they come: funny and sorrowful, deranged and beguiling, suffused with apocalypse and nostalgia. You'll want to read it in a single sitting--and then you'll want to read it again." —Justin Taylor, author of The Gospel of Anarchy
"Spring-loaded miniatures that flirt with the surreal edges of childhood and adolescence . . . You're astonished at [Reifler's] daring." —Los Angeles Times on See Through
"With the blackest of humor, an icy exactitude, and an ironic edge, these stories are reminiscent of Edward Gorey and . . . Patricia Highsmith." —Bookforum on See Through