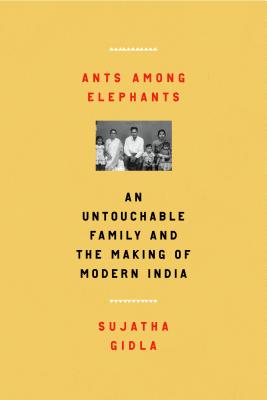 Ants Among Elephants
An Untouchable Family and the Making of Modern India
Hardcover

* Individual store prices may vary.
Other Editions of This Title:
Digital Audiobook (5/21/2018)
Paperback (7/17/2018)
MP3 CD (5/22/2018)
Compact Disc (5/22/2018)
Description
A Wall Street Journal Top 10 Nonfiction Book of 2017
A Publishers Weekly Best Book of 2017
A Shelf Awareness Best Book of 2017

"Ants Among Elephants is an arresting, affecting and ultimately enlightening memoir. It is quite possibly the most striking work of non-fiction set in India since Behind the Beautiful Forevers by Katherine Boo, and heralds the arrival of a formidable new writer." —The Economist

The stunning true story of an untouchable family who become teachers, and one, a poet and revolutionary

Like one in six people in India, Sujatha Gidla was born an untouchable. While most untouchables are illiterate, her family was educated by Canadian missionaries in the 1930s, making it possible for Gidla to attend elite schools and move to America at the age of twenty-six. It was only then that she saw how extraordinary—and yet how typical—her family history truly was. Her mother, Manjula, and uncles Satyam and Carey were born in the last days of British colonial rule. They grew up in a world marked by poverty and injustice, but also full of possibility. In the slums where they lived, everyone had a political side, and rallies, agitations, and arrests were commonplace. The Independence movement promised freedom. Yet for untouchables and other poor and working people, little changed. Satyam, the eldest, switched allegiance to the Communist Party. Gidla recounts his incredible transformation from student and labor organizer to famous poet and founder of a left-wing guerrilla movement. And Gidla charts her mother's battles with caste and women's oppression. Page by page, Gidla takes us into a complicated, close-knit family as they desperately strive for a decent life and a more just society.

A moving portrait of love, hardship, and struggle, Ants Among Elephants is also that rare thing: a personal history of modern India told from the bottom up.
Praise For Ants Among Elephants: An Untouchable Family and the Making of Modern India…
A New York Times Editors' Choice

"Sujatha Gidla's Ants Among Elephants, which records the life of a Dalit family in the central Indian state of Andhra Pradesh and spans nearly a century, significantly enriches the new Dalit literature in English . . . Defiant in the face of endless cruelty and misery, and tender with its victims, she seems determined to render the truth of a historical experience in all its dimensions, complexity, and nuance. The result is a book that combines many different genres—memoir, history, ethnography, and literature—and is outstanding in the intensity and scale of its revelations . . . Gidla's book achieves the emotional power of V.S. Naipaul's great novel A House for Mr. Biswas." —Pankaj Mishra, The New York Review of Books

"Unsentimental, deeply poignant . . . Ants Among Elephants gives readers an unsettling and visceral understanding of how discrimination, segregation and stereotypes have endured . . . [Sujatha Gidla] writes with quiet, fierce conviction, zooming in to give us sharply drawn, Dickensian portraits of relatives, friends and acquaintances, and zooming out to give us snapshots of entire villages, towns and cities . . . In these pages, she has told those family stories and, in doing so, the story of how ancient prejudices persist in contemporary India, and how those prejudices are being challenged by the disenfranchised." —Michiko Kakutani, The New York Times

"A remarkable family history . . . Ants Among Elephants may well be eye-opening not just for non-Indians—who will recoil in righteous horror from the intimate details of caste discrimination—but also for many Indians, for whom the lives of Untouchables take place out of sight . . . In this book of nonfiction one reads of real people fighting real cruelty with real courage and grace." —Tunku Varadarajan, The Wall Street Journal

"With her luminous command of fine details, Gidla manages a difficult and admirable task: she takes a tremendously personal memoir and renders it with such clarity that it tells the broader story of a place and an era." —James Norton, Christian Science Monitor

"The sheer immensity of India—its history, geography, politics and peoples—would be hard to condense under any circumstances . . . [but Gidla] brilliantly narrows the scope by explaining the tumultuous events of 20th-century India through her own family's strife-ridden lives." —Priscilla Kipp, BookPage

"[A] brilliant debut . . . Gidla is a smart and deeply sympathetic narrator who tells the lesser known history of India's modern communist movement. The book never flags, whether covering Satyam's political awakening as a young and poor bohemian or Manjula's rocky marriage to a mercurial and violent man. Gidla writes about the heavy topics of poverty, caste and gender inequality, and political corruption with grace and wit. Gidla's work is an essential contribution to contemporary Indian literature." —Publishers Weekly (starred review)

"An astonishing account, fired by compassion and lit up with a fierce sense of justice, filled with unforgettable characters raging against the violence and oppression that lurks under the surface glitter of modern India."
—Siddhartha Deb, author of The Beautiful and the Damned

"Ants Among Elephants is a fascinating and moving portrayal of one family's struggle to live." —Lee E. Cart, Shelf Awareness

"In Ants Among Elephants, Sujatha Gidla gives us a family history that deeply humanizes key figures in India's Naxalite movement while also revealing an India that few outsiders will have encountered. Gidla's uncommon position and background equip her to approach her subject not with mere curiosity, or, worse yet, pity and condescension, but to tell the stories of some of India's most disenfranchised people from their own perspectives and in their own voices. This is an impressive and important book that should be read by anyone with an interest in modern India." —Preeta Samarasan, author of Evening is the Whole Day
Farrar, Straus and Giroux, 9780865478114, 320pp.
Publication Date: July 18, 2017
About the Author
Sujatha Gidla was born an untouchable in Andhra Pradesh, India. She studied physics at the Regional Engineering College, Warangal. The author of Ants Among the Elephants, her writing has appeared in The Oxford India Anthology of Telugu Dalit Writing. She lives in New York and works as a conductor on the subway.
or
Not Currently Available for Direct Purchase