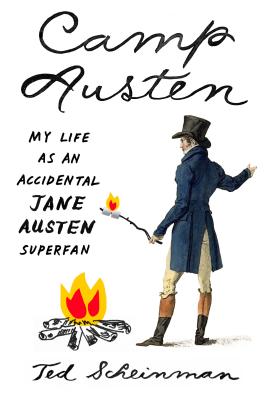 Camp Austen
My Life as an Accidental Jane Austen Superfan
Paperback

* Individual store prices may vary.
Description
A Paris Review Staff Pick and one of The Millions' Most Anticipated Reads of March

A raucous tour through the world of Mr. Darcy imitations, tailored gowns, and tipsy ballroom dancing

The son of a devoted Jane Austen scholar, Ted Scheinman spent his childhood eating Yorkshire pudding, singing in an Anglican choir, and watching Laurence Olivier as Mr. Darcy. Determined to leave his mother's world behind, he nonetheless found himself in grad school organizing the first ever UNC-Chapel Hill Jane Austen Summer Camp, a weekend-long event that sits somewhere between an academic conference and superfan extravaganza.

While the long tradition of Austen devotees includes the likes of Henry James and E. M. Forster, it is at the conferences and reenactments where Janeism truly lives. In Camp Austen, Scheinman tells the story of his indoctrination into this enthusiastic world and his struggle to shake his mother's influence while navigating hasty theatrical adaptations, undaunted scholars in cravats, and unseemly petticoat fittings.

In a haze of morning crumpets and restrictive tights, Scheinman delivers a hilarious and poignant survey of one of the most enduring and passionate literary coteries in history. Combining clandestine journalism with frank memoir, academic savvy with insider knowledge, Camp Austen is perhaps the most comprehensive study of Austen that can also be read in a single sitting. Brimming with stockings, culinary etiquette, and scandalous dance partners, this is summer camp like you've never seen it before.
Praise For Camp Austen: My Life as an Accidental Jane Austen Superfan…
"The most delightful Jane Austen book of the season . . . Scheinman pleasingly never loses sight of the literature that's at the heart of all this over-eager fun . . . his depiction of "Austenworld" glows with affection and insight, and his asides about the Austen canon itself are uniformly thought-provoking. Camp Austen may not prompt most readers to don their best topcoats and taffeta, but it will certainly send them hurrying back to the novels, to savor again what Scheinman refers to as a world displaced in time." —Steve Donoghue, The Christian Science Monitor

"[Camp Austen] is about the fun of totally, shamelessly, and ridiculously indulging in one's infatuation with literature. The constant weaving in of Austen's lines or of the words of her critics is part of that indulgence; Scheinman just does it a whole lot better than many of the rest of us would. His deeply loving and mocking voice feels wonderfully relatable to this twenty-first-century Austen fan . . . " —Claire Benoit, The Paris Review

"Charming . . . Though Scheinman's foray into Austenworld was both temporary and fortuitous, his observations of its residents (overwhelmingly women) are empathetic. There are no caricatures here, only portraits of adoring Janeites, sprinkled with a bit of memoir, history, and literary criticism, rendered with an observational wit that pays homage to Austen herself." —Stassa Edwards, Jezebel

"[Scheinman] charmingly narrates his dabblings among the "secret society" of Jane Austen fans in this lively debut that blurs the lines between literary criticism, memoir, ode to superfandom, and digestible biography of one of the most beloved authors in history . . . A candid and immensely pleasing romp . . . Whether discussing film and theatrical adaptations or dissecting the magic of Austen's lasting appeal, Camp Austen is a vivid and absorbing book . . . The triumph of Camp Austen is that there is something here for all readers, whether devoted Janeites, curious neophytes, or those of us just showing up for the clotted cream and costumes." —Leah Angstman, Los Angeles Review of Books

"Funny and thoughtful, delving into Jane Austen superfan culture with a wink .... Scheinman, an outsider dipping into an insular and passionate fandom, serves as an entertaining tour guide, and throughout the book nudges at the question: what is the overlap between how academics and common readers love literature?" —Amy Shearn, The Rumpus

"A treat for any Jane Austen fan . . . While Scheinman is clearly an astute reader of Austen—he includes numerous analyses of Austen's life and work that are insightful and often quite funny—this is also a fascinating window into a man's experience in a largely female world. Scheinman is a wonderful guide to the world of Austen, and this honest and thoughtful discussion of the role Austen's works have played in his family will delight any Janeite." —Booklist

"[A] lively debut . . . This is a loving and often humorous tribute to the Janeites of the world." —Publishers Weekly

"Sly, witty, and often humorous . . . A pleasing divertissement for Austen fans everywhere." —Kirkus

"Ted Scheinman plays a good Mr. Darcy in this funny and insightful look into the work of Jane Austen and the strange world of her most obsessive fans. Camp Austen explores how deeply meaningful and personal the oeuvre of an author can be, and how it stitches us together. Scheinman has delivered a heartfelt and entertaining glimpse into Austen's work and literary fandom that will resonate whether you spend your free time wearing Regency-era clothes and rereading Sense and Sensibility or not." —Jason Diamond, author of Searching for John Hughes

"It's so lovely to read a book about the delights, the perils, the peculiarities of fandom, and of the small, joyful enthusiasms therein, that treats its subject both critically and generously. Self-examining without being self-conscious, compact without feeling cramped, funny but never at a distant remove—I am not an academic, and I have never worn a cravat, but Camp Austen never made me feel like I needed either of those things in order to participate fully. It's a delight and an invitation." —Mallory Ortberg, author of Texts from Jane Eyre and The Merry Spinster

"I'll admit it: I have never read a word of Austen. But that doesn't matter! I still really enjoyed this book. Ted Scheinman is a dexterous guide through a world that I previously found inscrutable, deploying his scholarly chops along with a journalist's eye for the absurd. I may not be an Austen fanboy, but I have felt an embarrassing level of devotion to an author. And I think a lot about the ways fiction percolates throughout the 'real world.' That's what Ted documents here, with wit, and thoughtfulness, and memorable characters—all of which has lit a flame under my behind to finally get around to reading one of the most influential authors in the English language." —Brian Reed, host of S-Town
FSG Originals, 9780865478213, 176pp.
Publication Date: March 6, 2018
About the Author
Ted Scheinman is a writer and scholar based in Washington, D.C., where he works as a senior editor at Smithsonian magazine. He has taught courses on journalism, satire, and poetry at the University of North Carolina and has written for The New York Times, the Oxford American, Playboy, Slate, Pacific Standard and many others. Ted is the author of Camp Austen: My Life as an Accidental Jane Austen Superfan.