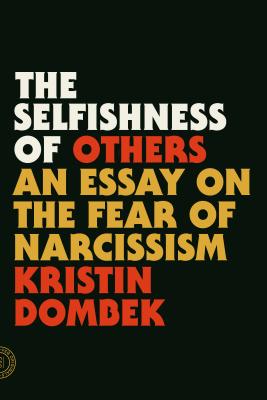 The Selfishness of Others
An Essay on the Fear of Narcissism
Paperback

* Individual store prices may vary.
Other Editions of This Title:
Digital Audiobook (12/12/2016)
Description
They're among us, but they are not like us. They manipulate, lie, cheat, and steal. They are irresistibly charming and accomplished, appearing to live in a radiance beyond what we are capable of. But narcissists are empty. No one knows exactly what everyone else is full of--some kind of a soul, or personhood--but whatever it is, experts agree that narcissists do not have it.

So goes the popular understanding of narcissism, or NPD (narcissistic personality disorder). And it's more prevalent than ever, according to recent articles in The New York Times, The Atlantic, and Time. In bestsellers like The Narcissism Epidemic, Narcissists Exposed, and The Narcissist Next Door, pop psychologists have armed the normal with tools to identify and combat the vampiric influence of this rising population, while on websites like narcissismsurvivor.com, thousands of people congregate to swap horror stories about relationships with "narcs."

In The Selfishness of Others, the essayist Kristin Dombek provides a clear-sighted account of how a rare clinical diagnosis became a fluid cultural phenomenon, a repository for our deepest fears about love, friendship, and family. She cuts through hysteria in search of the razor-thin line between pathology and common selfishness, writing with robust skepticism toward the prophets of NPD and genuine empathy for those who see themselves as its victims. And finally, she shares her own story in a candid effort to find a path away from the cycle of fear and blame and toward a more forgiving and rewarding life.
Praise For The Selfishness of Others: An Essay on the Fear of Narcissism…
"[The Narcissism of Others] is dense with information, but light on its feet. In seven chapters, Dombek turns over a topic that is big and slippery, trendy and hoary, thorny and funny: the charge of narcissism, as it appears in literature (Ovid, Freud) and the Literature (Alice Miller, Donald Winnicott, Otto Kernberg); on reality television (MTV's 'My Super Sweet 16') and the internet (soupy self-help sites) . . . [Dombek's] stories really land."
—Gemma Sieff, The New York Times Book Review

"Sharply argued, knottily intelligent, darkly funny"
—Jennifer Schuessler, The New York Times

"Is excessive self-love a scourge of the 21st century? Dombek, a wonderfully nuanced essayist, takes on our collective egotism in this piercing and surprisingly funny book."
—O, The Oprah magazine

"I read this book in a day—spellbound, blinded even to my own reflection in the darkened subway windows—and I was grateful it was so compelling, because I was already impatient for everyone else I knew to read it, too. Kristin Dombek's soul-stethoscope is wholly her own, an instrument of precision and tender curiosity."
—Leslie Jamison, author of The Empathy Exams

"When it comes to the vital essayistic subject of What It's Like to Be Alive in Our Time, Kristin Dombek is one of the smartest and most thoughtful writers out there. Her work is always considered, erudite, savvy, personal, and wide-ranging. She really took one for the team by doing a whole book on narcissism—an occasion for gratitude and celebration."
—Elif Batuman, author of The Possessed

"The Selfishness of Others is the strangest and most wonderful book I've read this year. It sees with visionary clarity in muddy waters. Love, hatred, the Internet, psychology, egotism—it plunges us into their mysteries. A tour de force and a masterpiece of comic intellect."
—Mark Greif, author of The Age of the Crisis of Man
FSG Originals, 9780865478237, 160pp.
Publication Date: August 16, 2016
About the Author
Kristin Dombek is an essayist and a cultural journalist. Her essays have been published in The New York Times Magazine, Harper's, London Review of Books, n+1, and The Paris Review, and anthologized in Best American Essays and elsewhere. She received a Rona Jaffe Foundation Writers' Award for Nonfiction in 2013.