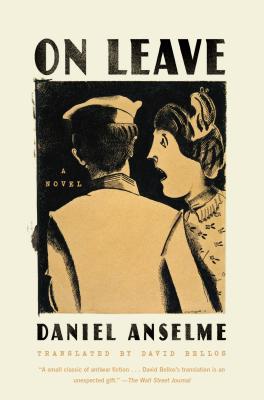 On Leave (Paperback)
A Novel
Farrar, Straus and Giroux, 9780865478251, 224pp.
Publication Date: March 10, 2015
Other Editions of This Title:
Hardcover (3/4/2014)
* Individual store prices may vary.
Description
A long-lost French novel in which three soldiers return home from an unpopular, unspeakable war

When On Leave was published in Paris in 1957, as France's engagement in Algeria became ever more bloody, it told people things they did not want to hear. It vividly described what it was like for soldiers to return home from an unpopular war in a faraway place. The book received a handful of reviews, it was never reprinted, it disappeared from view. With no outcome to the war in sight, its power to disturb was too much to bear.
Through David Bellos's translation, this lost classic has been rediscovered. Spare, forceful, and moving, it describes a week in the lives of a sergeant, a corporal, and an infantryman, each home on leave in Paris. What these soldiers have to say can't be heard, can't even be spoken; they find themselves strangers in their own city, unmoored from their lives. Full of sympathy and feeling, informed by the many hours Daniel Anselme spent talking to conscripts in Paris, On Leave is a timeless evocation of what the history books can never record: the shame and the terror felt by men returning home from war.
About the Author
Daniel Anselme was born Daniel Rabinovitch in 1927, and adopted the name Anselme while serving in the French Resistance with his father. Anselme traveled widely as a journalist, and was known as a raconteur and a habitué of Left Bank cafés. A vocal protester of France's war with Algeria, he addressed the war in On Leave (1957), his first novel. Anselme published a second novel, Relations, in 1964; ran the journal Les Cahiers de Mai from 1968 to 1974; and was one of the leaders of Solidarity Radio in Paris in 1981–82. He published a semiautobiographical account of his wartime experiences called The Secret Companion in 1984, and died five years later in Paris.

David Bellos is the director of the Program in Translation and Intercultural Communication at Princeton University, where he is also a professor of French and comparative literature. He has won many awards for his translations of Georges Perec, Ismail Kadare, and others, including the Man Booker International Translator's Award. He also received the Prix Goncourt for George Perec: A Life in Words. He is the author of the book Is That a Fish in Your Ear? Translation and the Meaning of Everything.
Praise For On Leave: A Novel…
"In style and particularly in spirit, [On Leave] resembles the early works of Aldous Huxley . . . with their combination of lightness and intellect, their strong ethics and unexpected tenderness." —Martin Riker, The New York Times Book Review
"A small classic of antiwar fiction . . . David Bellos's translation is an unexpected gift." —The Wall Street Journal
"Translator David Bellos, who has written an excellent introduction, has done well to save this dark novel from obscurity." —Michael Autrey, Booklist
"First published in 1957, the late Daniel Anselme's On Leave chronicles one week in the lives of three soldiers, furloughed in Paris. Anselme, a resistance fighter and journalist, interviewed many conscripted men while researching the novel, and its unflinching look at the horrors of the Algerian conflict meant it was initially ignored by critics and never reprinted or translated. A new edition by Faber & Faber brings this 'lost novel' to a whole new readership, and that's a good thing. While it's not a light or easy read (although David Bellos's translation is spare and clear), it remains deeply affecting and, needless to say, relevant." —Sadie Stein, The Paris Review Daily
"This precious act of literary reclamation . . . reveals a novel with a solar-plexus punch that was written from the dark heart of conflict . . . Translated by David Bellos with an urgent, slangy swagger, On Leave keeps its touch light." —Boyd Tonkin, The Independent (UK)
"More than half a century has passed, and now this forgotten work will be acknowledged as a very important book that also happens to be a most impressive novel. Polemic is seldom as well served by such understated literary flair." —Eileen Battersby, The Irish Times
"This new translation of author and journalist Anselme's first novel . . . not only introduces the English-speaking world to a forgotten classic, little-read since its 1957 debut, it fills the surprising silence in French literature regarding the Algerian War. . . [On Leave is] the brief, elegiac, searching novel that one of France's most unpopular wars deserves." —Publishers Weekly