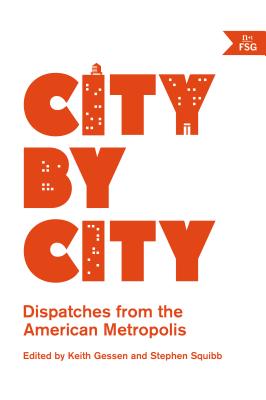 City by City
Dispatches from the American Metropolis
Paperback

* Individual store prices may vary.
Description
From its first shock waves in 2008, the Great Recession has been reshaping American cities. Detroit collapsed, and the ongoing national rollback in industry has meant the death of factory towns like Greensboro, North Carolina and Reading, Pennsylvania. But the effects of the crash have been far from uniform. The populations of gentrifying cities such as San Francisco and Brooklyn continue to expand, with rents soaring and neighborhood demographics changing overnight. Providence, Rhode Island is experiencing a civic renaissance that disguises lingering corruption in its political system. The two hundred citizens of Whittier, Alaska, have been approached about starring in a reality TV show. And racial profiling by police in cities like Cincinnati, Palm Coast, and Baltimore has set the stage for protests that have swept the nation.
City by City, edited by Keith Gessen and Stephen Squibb, is a collection of essays from a new generation of writers working to document the places they call home. With the specificity of Studs Terkel and the humor of Hunter S. Thompson, they capture the forces-gentrification, underemployment, politics, culture, and crime-that are changing the lives of their neighborhoods, their neighbors, and themselves.
Praise For City by City: Dispatches from the American Metropolis…
"Over the course of more than 30 essays (and a few interviews), the writers in this collection observe their cities, or the cities they visit, with an unflagging docu-personal, autodidactic spirit, always with an eye for the unities and disunities of space, history local economy--whatever makes a city. Nearly every piece demonstrates the sensibility that undergirds our best fiction . . . Without writing like this, collected and edited with care over many years, we cannot feel deeply or think clearly enough about the lives of other Americans to pressure against the maniac decisions of state legislatures, for example, or intervene in the tragedy that defines our border with Mexico. As part of n+1's ongoing contribution to our political, intellectual, and literary scene, City by City . . . could be the most substantial and urgent so far." —Jonathan Sturgeon, Flavorwire
"An honest and modern portrait of America, from one coast to the other." —Nicole Jones, Vanity Fair
"The spirited, eye-opening examinations of various American cities in this intelligent collection of essays . . . tell a common story of economic vibrancy and ambitious vision followed by 'postindustrial malaise,' economic depression, ecological devastation, and rising crime . . . The most thoughtful and thought-provoking provide personalized histories of various cities' struggles . . ." —Publishers Weekly, Starred Review
"Written in the aftermath of the 2008 global financial crisis, these probing, often deeply personal essays crisscross the American continent, from San Diego to Syracuse, to reveal how cities, like their diverse inhabitants, grow, change, crash, and burn-and rise from their own ashes." —MORE
"Chronicling the country's post-crash years, City by City collects essays on such subjects as gentrification in Fresno, California, and the shale oil boom in North Dakota, and offers a trenchant analysis on our changing nation." —Travel + Leisure
"The boom-and-bust fortunes of the 21st-century economy come to light in this fascinating chronicle of American cities. In City by City: Dispatches from the American Metropolis, editors chose 37 colorful journalistic voices and essays to match the mood of our ever-changing nation . . . These are poignant and personal portraits that capture the economic tides of our times and the current mood of the American spirit." —American Way
"These varied essays offer compelling snapshots of how Americans live, move, and work." —Kirkus
"Coeditors Gessen and Squibb have compiled a diverse offering of voices . . . These essays look critically at how economics, politics, and crime affect metropolises today. It's the human element, however, the citizen stories woven throughout this book, that remind us that no city is an empty vessel-it is shaped by those that occupy it." —Angela Forret, Library Journal
n + 1, 9780865478312, 496pp.
Publication Date: May 12, 2015
About the Author
Keith Gessen is a founding editor of n+1 and the author of A Terrible Country, All the Sad Young Literary Men, as well as the editor of Diary of a Very Bad Year: Confessions of an Anonymous Hedge Fund Manager and Kirill Medvedev's It's No Good: Poems, Essays, Manifestoes.

Stephen Squibb is a graduate student in English at Harvard University. His writing has appeared in Artforum and e-flux journal.
or
Not Currently Available for Direct Purchase