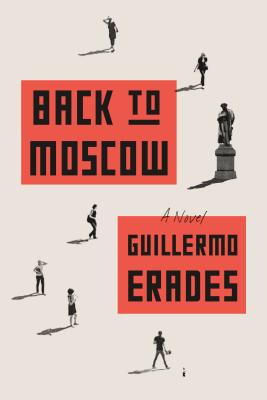 Back to Moscow
A Novel
Hardcover

* Individual store prices may vary.
Description
Tuesday night: vodka and dancing at the Hungry Duck. Wednesday morning: posing as an expert on Pushkin at the university. Thursday night: more vodka and girl-chasing at Propaganda. Friday morning: a hungover tour of Gorky's house.
Martin came to Moscow at the turn of the millennium hoping to discover the country of Dostoyevsky, Tolstoy, and his beloved Chekhov. Instead he found a city turned on its head, where the grimmest vestiges of Soviet life exist side by side with the nonstop hedonism of the newly rich. Along with his hard-living expat friends, Martin spends less and less time on his studies, choosing to learn about the Mysterious Russian Soul from the city's unhinged nightlife scene. But as Martin's research becomes a quest for existential meaning, love affairs and literature lead to the same hard-won lessons. Russians know: There is more to life than happiness.
Back to Moscow is an enthralling story of debauchery, discovery, and the Russian classics. In prose recalling the neurotic openheartedness of Ben Lerner and the whiskey-sour satire of Bret Easton Ellis, Guillermo Erades has crafted an unforgettable coming-of-age story and a complex portrait of a radically changing city.
Praise For Back to Moscow: A Novel…
"Guillermo Erades savors the sweetness and cruelty of erotic conquest with a candor that rivals Milan Kundera's, and he tumbles his hero into a sentimental education with a slyness that rivals Chekhov's." —Caleb Crain, author of Necessary Errors
"Guillermo Erades has written the rare novel whose last paragraphs offer up a genuine epiphany, wholly earned and wholly unexpected. With its final gesture, the story reveals its true shape. It's an act of magic, such a revelation, and one that I can't stop thinking about." —Kevin Brockmeier, author of The Illumination
"Elegant and dramatic, Back to Moscow is a book to get lost in, like a city. A rich and deeply charming debut."—Emma Jane Unsworth, author of Animals
"[A] cleverly satisfying first novel . . . Back to Moscow is quite an imaginative trip."
—Charles Larson, CounterPunch
"One of the book's strongest suits is its snapshot of Moscow as it descends into the Putin-era free-for-all. Erades shows how the rise of the oligarchs with their 'black humvees and whores' supplants the equally dark Soviet past, bringing economic chaos and moral uncertainty . . . Erades makes this kind of contemplative fiction look easy." —Jude Cook, Litro
"Back to Moscow is a lively and engaging work. Erades develops Martin from being careless with his relationships to finally appreciating a stable one . . . The tone and feel of much of this recalls . . . Henry Miller's novels Tropic of Cancer and Tropic of Capricorn." —Ross Southernwood, Sydney Morning Herald
"With hints of Anthony Burgess's A Clockwork Orange, notes of Gary Shteyngart, and a shadow of Masha Gessen, Erades's first novel is part frothy concoction and part deadly hemlock. As confident as a reality TV show, the story begs to read in one sitting." —Library Journal
"A coming-of-age novel set in Moscow, Erades' debut plays with tropes of student life, literary devotion, and travel. . . . Erades' structure mimics the movement of Martin through the city, through his life—always yearning yet not always heading in the right direction. An appealingly chaotic—if familiar—look at the inner life of a young 'intellectual.'" —Kirkus Reviews
"Russia's capital is the most dynamic character in Erades's boozy bildungsroman . . . readers will appreciate the texture and detail Erades gives to Moscow."
—Publishers Weekly
"Powerful . . . an ambitious debut which . . . chronicles an individual's struggle to lead a meaningful life." —Max Liu, The Independent UK
"The tone and feel of much of this recalls . . . Henry Miller's novels Tropic of Cancer and Tropic of Capricorn. Back to Moscow is a lively and engaging work." —Ross Southernwood, The Age Entertainment
Farrar, Straus and Giroux, 9780865478374, 384pp.
Publication Date: May 3, 2016
About the Author
Guillermo Erades was born in Malaga, Spain. He has lived in Leeds, Amsterdam, Luxembourg, Moscow, Berlin, Baghdad, and Brussels, where he is currently based. He is the author of Back to Moscow.
or
Not Currently Available for Direct Purchase