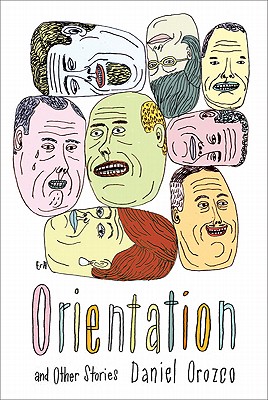 Orientation
And Other Stories
Hardcover

* Individual store prices may vary.
Description
Breakfast's boiled egg, the overhead hum of fluorescent lights, the midmorning coffee break—daily routines keep the world running. But when people are pushed—by a coworker's taunt, a face-to-face encounter with a woman in free fall from a bridge—cracks appear, revealing alienation, casual cruelty, madness, and above all a simultaneous hunger for and fear of the unknown.
Daniel Orozco leads the reader through the hidden lives and moral philosophies of bridge painters, men housebound by obesity, office temps, and warehouse workers. He reveals the secret pleasures of late-night supermarket trips for cookie binges, exceptional data entry, and an exiled dictator's occasional piss on the U.S. embassy. A love affair blooms between two officers in the impartially worded pages of a police blotter; a new employee's first-day office tour includes descriptions of other workers' most private thoughts and actions; during an earthquake, the consciousness of the entire state of California shakes free for examination.
Orientation
introduces a writer at the height of his powers, whose work surely invites us to reassess the landscape of American fiction.
Orientation is a Kirkus Reviews Best of 2011 Short Story Collections title.
Praise For Orientation: And Other Stories…
"Inspired . . . acidly comic . . . virtuosic." —Ted Weesner, The Boston Globe
"'Temporary Stories,' the eighth entry in Daniel Orozco's debut collection, Orientation (Faber and Faber), is a gem and a killer. Not since Henry James's 'In the Cage' has a writer so perfectly captured the anxieties of interacting with the public for pay. Somehow, Orozco manages to convey James's psychological acuity with one-tenth of his clauses, mingling it with Steven Millhauser's sense of lunatic joy." —Eugenia Williamson, The Boston Phoenix
"Orozco's long-anticipated collection, Orientation and Other Stories, holds a cracked Barthelme-meets-Kafka-esque mirror to this twenty-first-century American life." —Megan O'Grady, Vogue
"[Orozco's] cracked characters grip like Krazy Glue." —Lisa Shea, Elle
"These nine darkly funny, profoundly compassionate stories take as their subject the loneliness particular to contemporary culture . . . 'You can't know anybody, not really, not in the brief overlaps of flimsy acquaintance, nor in the tenuous and fleeting opportunities for connection that we are afforded,' thinks a man about to be shot for the $60 in his wallet. But the real genius here is the subtle accumulation of evidence to the contrary—the insistence that even in the office cubicle, or between the lines of the police blotter, human contact is sought after and made." —More magazine
"The moment you begin this incomparable debut, you'll discover why Daniel Orozco's fans have been shouting his praises for years. In these wildly original stories, single details reveal whole human lives; the impersonal dissolves seamlessly into the personal; the geological transforms into the psychological; and the short story itself breaks open to reveal previously unimagined possibility. This may be Orozco's first collection, but he's nothing short of a master." —Julie Orringer, author of The Invisible Bridge and How to Breathe Underwater
"
Orientation
is a wonderful collection of stories. 'Somoza's Dream' alone is worth the price of the ticket. But that's not fair, because the same could be said of 'Officers Weep,' 'Shakers,' and every single story in this stunning piece of literary art." —
David Means
, author of
The Spot
"Orientation is a seriously good book—beautifully written, rigorous, funny, brokenhearted, smart, and without a hint of pretense. Orozco has achieved that rare thing, his own prose rhythm, and the truth of it is a pleasure to the ear." —Adam Haslett, author of Union Atlantic
"I became a fan of Daniel Orozco when I first read the story 'Orientation' back in the 1990s. I've been waiting eagerly for this collection ever since, and I'm so grateful to have it in my hands at last. Orozco is a vital American writer, and this book is cause for celebration." —Dan Chaon, author of Await Your Reply
"At a time when trivial tales are often expanded and diluted into book-length narratives, Daniel Orozco's Orientation brings hope for the return of serious short-form storytelling. The stories in this collection make one marvel at the bigness of their creator's mind—each of them has the depth and scope of a novel. Orozco has both the relentlessness and the compassion of a truly great writer." —Yiyun Li, author of The Vagrants
"This book brims with big, deadly surprises and sharp, hallucinatory images. Orozco can do anything: first, second, third person; he can explode moments into whole stories, and dash through lifetimes in a paragraph. Orientation contains nine unsettling, boundary-crossing, and exquisitely-fashioned stories—and I won't be surprised when it becomes a classic." —Anthony Doerr, author of The Shell Collector and Memory Wall
Faber & Faber, 9780865478534, 176pp.
Publication Date: May 24, 2011
About the Author
Daniel Orozco's stories have appeared in "The Best American Short Stories," "The Best American Mystery Stories," "The Best American Essays," and the "Pushcart Prize "anthology, as well as in publications such as "Harper's Magazine," "Zoetrope: All-Story," "McSweeney's," "Ecotone," and "StoryQuarterly." He was awarded a 2006 NEA Fellowship in fiction, and was a finalist for a 2006 National Magazine Award in fiction. A former Stegner Fellow and Jones Lecturer at Stanford, he teaches creative writing at the University of Idaho.
or
Not Currently Available for Direct Purchase