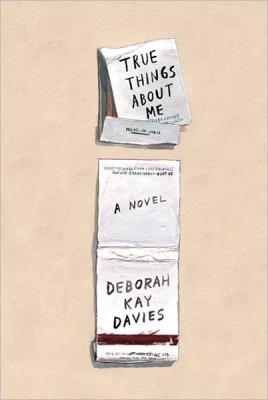 True Things About Me (Paperback)
Faber & Faber, 9780865478541, 224pp.
Publication Date: July 5, 2011
* Individual store prices may vary.
or
Not Currently Available for Direct Purchase
Description
One ordinary afternoon in a nameless town, a nameless young woman is at work in a benefits office. Ten minutes later, she is in an underground parking lot, slammed up against a wall, having sex with a stranger.
What made her do this? How can she forget him? These are questions the young woman asks herself as she charts her deepening erotic obsession with painful, sometimes hilarious precision. With the crazy logic and hallucinatory clarity of an exhilarating, terrifying dream, told in chapters as short and surprising as snapshots, "True Things About Me "hurtles through the terrain of sexual obsession and asks what it is to know oneself and to test the limits of one's desires.
About the Author
Deborah Kay Davies started writing and publishing when she was a mature student and taught creative writing at Cardiff University. Her first collection of stories, "Grace, Tamar and Laszlo the Beautiful," won the 2009 Wales Book of the Year Award. She has also published a collection of poems, "Things You Think I Don't Know." She lives in Wales.
Praise For True Things About Me…
"Davies unspools her novel in short chapters featuring searing, forensically precise sentences. Every sensation is recorded. . . But what [Davies] does most brilliantly is to give equal time to her narrator's feelings of victimization (fear, self-loathing), as well as to those feelings no one wants to acknowledge—an eager complicity, the way a dangerous person can make us feel alive. In some ways, Davies has also captured the malaise of the virtual age, showing how our connections to a false idea of a person, or virtual person, come at the expense of the real people around us. She has taken a common subject and through dreamlike imagery and uncommon complexity swept the reader up too." --Rebecca Barry, New York Times Book Review "Brutal, funny, and exerting the sick fascination of watching a train wreck.  One of those rare novels that is genuinely about sex, in all its irrationality and potential for self-destruction." —LIONEL SHRIVER, author of We Need to Talk About Kevin "A perfectly tidy, well-constructed life—complete with job, friends, parents and house slides into the gutter . . . An airy book, full of wonderful spaces. Why can't she stop herself? Is her life so worthless? It's the narrator's insouciance that draws us in, but something darker keeps us reading. We all know how fragile our lives are. You close the book and are relieved that her descent is not your own." —SUSAN SALTER REYNOLDS, The Los Angeles Times "In this wallop of a little novel . . . Ms. Davies writes with such spunk that you stay with her for much of the ride." --Susannah Meadows, New York Times "Glinting with pitch-black humour, Davies's razor-edged style has a lucidity and ferocity that makes much 'literary' prose sound like soggy mush." —BOYD TONKIN, The Independent
"Deborah Kay Davies . . . is a writer born to awaken us . . . Her gift is that of nuanced compassionate revelation. Here, the almost-incomprehensible is made palpable. The ostensible fact that it's told to us by the victim makes it more remarkable still. Repelled, yet attracted, the reader is helpless. Nothing prurient is indulged in. Here and there, flit sprites of humour, making the darkness more intense. If darkness has brilliance, this is it." —TOM ADAIR,
The Scotsman
 "The most riveting thing you're likely to read this year . . . In the vein of Emma Donoghue's
Room
, which strives to make unimaginable abuse palpable,
True Things About Me
is an arresting first novel that marks its author as a voice to note." —IRINA IVANOVA,
The Indypendent
 "A wine-dark fantasy of sexual obsession that begins with a tryst in a parking lot and evolves into a masochistic pas de deux with an ex-con known as Mr. Blond." --Megan O'Grady,
Vogue.com
 "Happy to report: This book is funny. In its treatment of sexual obsession it is reminiscent of Rod Liddle's darkly comic short-story collection
Too Beautiful for You
, but it doesn't splash out with as much hilarity and showmanship. The mood here is bleaker, quieter, though it is buoyed by humor and an occasional nice, human moment . . . Since her story is anchored with all the weight of real life?a job she could lose if she doesn't get it together, fretful aging parents, ordinary trips to the grocery store -- the cinematically outrageous things she does with this man actually feel quite possible. And that might be the scariest idea of all." --Katie Haegele,
Philadelphia Inquirer
 "In Davies's narrator, back-alley toughness mingles with sweet vulnerability so effectively, it's hard to stop reading about her, even when I could have throttled her myself for being so self-destructive. [True Things About Me] dragged me, bruised, to its final horrifying pages?which I say not as judgment but as a compliment." —Trish Crapo,
Women's Review of Books
  "With a distinctive, cliché-free writing style and a psychologically complex 'victim,' this first novel from talented, award-winning Welsh writer Davies  points to a promising future . . . Darkly sardonic exploration of sexual obsession." —
Kirkus Reviews
 Included in the
Guardian
's "Twelve of the best new novelists:" "Deborah Kay Davies's
True Things About Me
is a brutal story in brutal prose. The unnamed narrator works in a benefit office, a criminal walks in and literally claims her. Desire is portrayed here as a kind of breakdown—everything is wrecked in its pursuit." "A little book that packs a huge punch . . . Davies's narrator walks a narrow line between deadpan wit and sheer terror—little by little she surrenders control of her life, and watches herself with a kind of horrified fascination. In the end there's only one way it can go, and Davies handles the horrifying climax with control and assurance." —
The Times
 "A dark tale of violence, lust and obsession,
True Things About Me
, is a tautly written exploration of desire within an all-consuming , yet fractured, relationship, leading fellow Welsh writer Trezza Azzopardi to praise it as 'The Bell Jar for the 21st century.'" —
The Observer
Advertisement