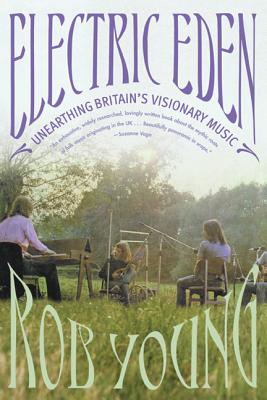 Electric Eden (Paperback)
Unearthing Britain's Visionary Music
Farrar, Strauss & Giroux-3pl, 9780865478565, 664pp.
Publication Date: May 10, 2011
* Individual store prices may vary.
Description
A Kirkus Reviews Best Nonfiction of 2011 title
In the late 1960s, with popular culture hurtling forward on the sounds of rock music, some brave musicians looked back instead, trying to recover the lost treasures of English roots music and update them for the new age. The records of Fairport Convention, Pentangle, Steeleye Span, and Nick Drake are known as "folk rock" today, but Rob Young's epic, electrifying book makes clear that those musicians led a decades-long quest to recover English music-and with it, the ancient ardor for mysticism and paganism, for craftsmanship and communal living.
It is a commonplace that rock and R&B came out of the folk and blues revivals of the early 1960s, and Young shows, through enchanting storytelling and brilliant commentary, that a similar revival in England inspired the Beatles and Pink Floyd, Led Zeppelin and Traffic, Kate Bush and Talk Talk. Folklorists notated old songs and dances. Marxists put folk music forward as the true voice of the people. Composers like Benjamin Britten and Ralph Vaughan Williams devised rich neo-traditional pageantry. Today, the pioneers of the "acid folk" movement see this music as a model for their own.
Electric Eden is that rare book which has something truly new to say about popular music, and like Greil Marcus's Lipstick Traces, it uses music to connect the dots in a thrilling story of art and society, of tradition and wild, idiosyncratic creativity.
About the Author
Rob Young, who was the editor of The Wire, the leading British music magazine, is now an editor at large there. He lives in London.
Praise For Electric Eden: Unearthing Britain's Visionary Music…
"Rob Young's ambitious Electric Eden presents a flip side to the well-known story of the evolution of electric rock in Britain in the 1960s, a story of the rediscovery of England's native folk music in the early 20th century by the likes of William Morris and Cecil Sharp, who went from town to town recording and notating the music that would hold great sway with those musicians who became associated with England's less loud, more earthy music—the likes of Vashti Bunyan, Davy Graham, The Incredible String Band, Pentangle, Fairport Convention and Sandy Denny, Richard Thompson, John Martyn, John Renbourn, Bert Jansch, Nick Drake, and many others would each deploy traditional folk music to their own ends in various recombinant ways, writing new songs laced with the idealism of the exploding sixties youth culture, while paying homage to the spirit and traditions of old. Eventually the tide of this music swelled to inspire some of the most influential names in electric rock, from the Beatles and Pink Floyd to Led Zeppelin and David Bowie. Thoroughly researched and well written, this book uncovers the secret history of British popular music in the sixties and beyond. Highly recommended." —Lee Ranaldo, Sonic Youth
"An exhaustive, widely researched, lovingly written book about the mythic roots of folk music originating in the UK . . . Beautifully panoramic in scope." —Suzanne Vega
"Encyclopedic and often mesmerizing . . . [Electric Eden] creates its own sort of timeless music." —Tom Nolan, San Francisco Chronicle
"Rob Young has written such a richly detailed, evocative, and readable account of Britain's fascination with folk music that it's hard to believe it exists. Electric Eden begins modestly as an account of folk rock in the sixties and seventies, and soon is sweeping boldly through time, turning up an alternative and often darker history of England, and subtly undermining the received wisdom on tradition, nostalgia, pop song, and high modernist theories of culture. Those who care about American music have much to learn from this book." —John Szwed, author of Alan Lomax: The Man Who Recorded the World
"Rob Young's theme—the visionary instinct—allows him to treat British music of the 20th Century as a continuous narrative rather than one that begins or ends with rock music. As such, Electric Eden deserves to be shelved next to Alex Ross's The Rest Is Noise." —Wesley Stace, author of Charles Jessold, Considered as a Murderer
"The author is blissfully quotable . . . These lines about the early years of the British psychedelic movement are so terrific that they contain the seeds of a sour, funny, lovely Philip Larkin-ish poem . . .
Electric Eden
is a lucid and patriotic guided tour, as vigorous as one of Heathcliff's strolls across the moors . . . [Young's] book throws plenty of lightning, and it will have you scrambling to download some of the music that's filling his head." —Dwight Garner,
The New York Times
"Electric Eden is far more ambitious than a simple retelling of the past. In sync with his assertion that folk music echoes across time, Young's narrative slips fluidly forward, backward, and through the cracks of canonical music history. And he doesn't just stick to music; like Greil Marcus with a thirst for ancient paganism and postmodern urban theory, Young weaves a poetic, philosophical tapestry as rich and heady as the songs he champions. Nick Drake and Sandy Denny are voices from a séance; vintage album covers are tarot cards to be decoded. Films like The Wicker Man and books like The Hobbit loom in the background. As the high-decibel dystopias of glam and punk begin to eclipse folk-rock's heyday, astronauts takes a place at the table alongside bards and druids." —Jason Heller, The A.V. Club
"Electric Eden is a stunning achievement." —Simon Reynolds, author of Rip It Up and Start Again

"I'm currently on my sixth album purchase because of this book. The guy should be getting a kickback from Amazon, he really should." —Robin Turner, Caught by the River

"Hugely ambitious . . . A thoroughly enjoyable read and likely to remain the best-written overview [of the modern British folk phenomenon] for a long time . . . I've already made several precious musical discoveries thanks to this book and I expect to make more." —Michel Faber, Guardian Book of the Week

"Young's grasp of context is enviable, his knowledge encyclopaedic . . . Electric Eden constructs a new mythography out of old threads, making antiquity glow with an eerie hue." —Peter Murphy, Sunday Business Post

"Stunning . . . The thread of mapping modern instruments on to traditional folk tunes leads Young from Peter Warlock to Bert Jansch, Steeleye Span and the Aphex Twin, via the bucolic psychedelia of the Incredible String Band, the Beatles and Pink Floyd. This is no easy path to navigate but Young rarely wavers." —Bob Stanley, Sunday Times

"A comprehensive and absorbing exploration of Britain's folk music, which serves, too, as a robust defence of the genre . . . Folk, be it traditional, mystical, mythical, radical or experimental, is a living, breathing form, Young believes. It is everywhere, in all the music we hear, in every song we sing. Electric Eden defies you to disagree." —Dan Cairns, Sunday Times