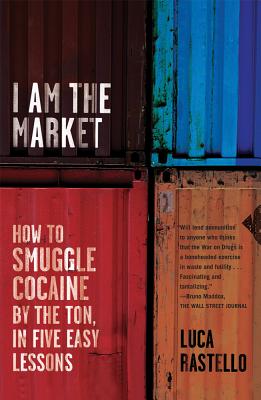 I Am the Market (Paperback)
How to Smuggle Cocaine by the Ton, in Five Easy Lessons
Faber & Faber, 9780865478640, 192pp.
Publication Date: February 28, 2012
Other Editions of This Title:
Hardcover (3/1/2011)
MP3 CD (7/26/2016)
Paperback (5/1/2011)
* Individual store prices may vary.
Description
A page-turning account of the international cocaine trade, presented as five lessons in how to move tons of the drug across borders
Forget about cocaine concealed in false-bottomed suitcases or swallowed in ovules resistant to gastric juices. When entire national economies are kept afloat by the money from cocaine smuggling, the quantities these tactics represent are meaningless. When a commodity like cocaine becomes a mainstay of the international economy, grams and kilos are irrelevant. Because what is needed to sustain the market is cocaine by the ton.
Tons of cocaine means ships, cargo planes, and containers: large, cumbersome, extremely tangible, and visible amounts of white powder. So how is all that merchandise moved through harbors and airports? How are customs offices deceived, fiscal checks eluded, police networks infiltrated, and documents prepared to disguise mountains of cocaine?
It's done with coca made into cubes, dissolved in liquid, hidden in marble blocks or inside electric cables. With friends in the right places. With cocaine smuggled in cranes. With sniffer dogs supplied to the police, free of charge. With money in cash, always. And yes, with willing mules swallowing drugs. But they will be arrested, and that's part of the plan.
Drawing from years of research and conversations with criminal sources and convicted drug smugglers, with new information on the techniques, methods, and strategies used, Luca Rastello brings us a devastating portrait of the international cocaine trade. Told from the perspective of the formidable entrepreneurs whose tactics evolve and adapt to keep pace with shifts in the global economy, "I Am the Market "is a masterful expose of a world we thought we understood--until now.
About the Author
Luca Rastello is a journalist at the Italian newspaper "La Repubblica "and director of Osservatorio Balcani e Caucaso, a think tank and website that specializes in the criminal economy and international relations.
Praise For I Am the Market: How to Smuggle Cocaine by the Ton, in Five Easy Lessons…
"Darkly fascinating . . . this nameless coke-smuggling heavy has a jaundiced eye and a keen wit. I Am the Market is a glass-bottomed boat on what the Narrator calls a 'sea of cocaine' . . . Part Smithian-liberal treatise (if only the government wouldn't interfere . . . ), part Marxian analysis (the disenfranchised retaking the means of production . . . ), it presents an astute, jaded look at the political economy, in both macro and micro terms, of one of the world's most valuable substances." —Brian Thomas Gallagher, The Observer

"Most of the people smuggling cocaine today don't even know they're doing it, especially if the cocaine has been disguised using one of the ingenious methods that The Market describes: dissolving powder in water and trapping it between panes of glass, for instance, or smearing it as paste over a consignment of fashionably crusty blue jeans . . . I Am the Market overflows with this kind of juicy tidbit. The notorious practice of having drug 'mules' swallow ovules of cocaine wrapped in condoms, he explains, is usually a diversion technique: While customs officers are posing on the evening news with half a kilo of product seized from some poor soul's intestines, the real shipment of maybe half a ton passes through the airport unmolested . . . Many of The Market's revelations will lend ammunition to anyone who thinks that the War on Drugs is a boneheaded exercise in waste and futility." —Bruno Maddox, The Wall Street Journal

"Luca Rastello, a longtime observer of the criminal economy as a journalist and think-tank director, allows a very experienced Italian 'sistemista'—a cagey contractor who transports tons of cocaine for cartels—to explain how it works. Rastello opens the book with a quick overview, and then hands the narration over to the unnamed sistemista. He is brilliant, and his voice, replete with all the bombast, ego, and lust for adventure one would expect of a globe-trotting career criminal, is what makes the book such a compelling and informative read." —Jesse Singal, The Boston Globe

"A thrilling ride . . . The inside story on upper-tier cocaine smuggling is one that has been begging to be told. This one, the account of an anonymous smuggler known as Mr. Market, told to Italian journalist Luca Rastello, is brazen, defiant and brilliant." —Tom Feiling, The Telegraph

"This is quite simply the best book about cocaine that we have read in the last ten years." —Maxim
or
Not Currently Available for Direct Purchase