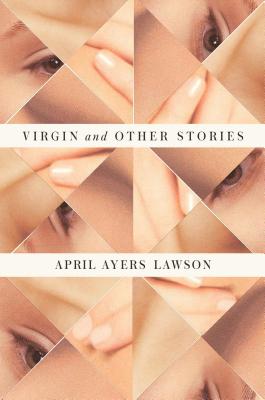 Virgin and Other Stories
Hardcover

* Individual store prices may vary.
Other Editions of This Title:
Paperback (11/7/2017)
Description
An Irish Times Best Debut of 2017

VICE, BOMB, Southern Living and Refinery29 Best Books of 2016
Set in the American South, at the crossroads of a world that is both secular and devoutly Christian, April Ayers Lawson's stories mine the inner lives of young women and men navigating sexual, emotional, and spiritual awakenings. In the title story, Jake grapples with the growing chasm between him and his wife, Sheila, who was a virgin when they wed. In "Three Friends in a Hammock" the tension and attraction is palpable between three sexy, insecure young women as they tug and toe the rope of their shared sack. "The Way You Must Play Always" invites us into the mind of Gretchen, young-looking even for thirteen, as she attends her weekly piano lesson, anxiously anticipating her illicit meeting with Wesley, her instructor's adult brother who is recovering from a brain tumor. Conner, the cynical sixteen-year-old narrator of "The Negative Effects of Homeschooling," escorts his mink-wearing mother to the funeral of her best friend, Charlene, a woman who was once a man. And in "Vulnerability" we accompany a young married painter to New York City, lured there by an art dealer and one of his artists. Both are self-involved and have questionable intentions, but nevertheless she is enticed.
Nodding to the Southern Gothic but channeling an energy all its own, Virgin and Other Stories is a mesmerizing debut from an uncannily gifted young writer. With self-assurance and sensuality, April Ayers Lawson unravels the intertwining imperatives of intimacy—sex and love, violation and trust, spirituality and desire—eyeing, unblinkingly, what happens when we succumb to temptation.
Praise For Virgin and Other Stories…
"Whether literal (a hammock strung taut between two trees as setting) or metaphorical (a guilty conscience as plot point), the tension is real and present on every page of April Ayers Lawson's excellent debut story collection . . . Her writing is coated with a sometimes subtle, other times sweat-inducing, always sublime Southern grit." —Nylon
"The Plimpton Prize winner's debut story collection plunges into a sensual, deeply Christian South, rife with homeschooled kids, virgin brides, and terminally ill potheads. Lawson proves, yet again, that while the red states have a lot of problems, failing to inspire gorgeous, gothic fiction is not among them." —New York Magazine
"A stunning debut." —Dianca London, Lenny Letter
"Brilliant . . . extraordinarily intense. Lawson pins raw emotional truth to the page with the pressure of a style that is elegant, cool, hyper-intelligent, and witty." —David Gordon, VICE.com
"[An] impressively polished debut . . . Despite her limpid, supple prose, there's a creepy cast to Lawson's vision, with shades of Flannery O'Connor's dark humor and Southern Gothic sensibility . . . In the richly nuanced title story, which made a splash when it won the 2011 Plimpton Prize for Fiction, a young husband wrestles with extramarital temptation and bafflement over his unfathomable, emotionally inaccessible wife . . . In 'Vulnerability,' the longest story, about a dicey but life-altering affair, Lawson has room to show off her skill . . . Writing convincingly from the male perspective in 'The Negative Effects of Homeschooling,' Lawson depicts adolescent desire with humor and warmth." —Heller McAlpin, NPR Books
"[A] confident debut collection . . . In ["The Way You Must Play Always], a 13-year-old girl named Gretchen takes piano lessons that she resents at a local teacher's house, interested mostly in the teacher's mysterious ailing brother . . . She pays him illicit visits, and their relationship is unnerving and well described, like all the best parts of this book." —New York Times
"[An] excellent debut collection . . . [Virgin and Other Stories] masterfully creates the sense that the world is chaos, and that in order to really see it you must avert your eyes . . . Eminently rereadable . . . [Lawson] has created lives that are complex, maddening, baffling, filled with heart and breath and life." —Lindsay Hunter, The Los Angeles Review of Books
"This fantastic debut short story collection is filled with characters that are vulnerable and complex. Set in the American South, these stories explore realms of sex, trust, and intimacy in a way that will entirely hook you." —Melissa Ragsdale, Bustle
"That's the power of Lawson's storytelling; it's psychologically poignant enough to avoid the generalizations often made about religion, chastity, and sexuality. Instead, Lawson explores a moral grey area, uncovering new possibilities for truth . . . A refreshing take on desires both taboo and repressed, Virgin and Other Stories is a promising debut." —Maddie Crum, The Huffington Post
"'Virgin'—April Ayers Lawson's breakout short story, first published in The Paris Review—is the story of a man who marries a woman who, for reasons that become increasingly more mysterious, won't sleep with him. It's a haunting, award-winning story that makes you think twice about what we 'owe' one another in any marriage. But 'Virgin' is only where Ayers Lawson is getting started. The rest of the collection is just as good, if not even more enticing, than the one that brought her to critical acclaim. Intrigued? You should be." —Elizabeth Kiefer, Refinery 29
"Compelling, dark, and gripping . . . I really, really loved it. I can't wait to read what [Lawson] will do next." —Rebecca Schinsky, Bookriot podcast
"Tautly strung and full-bodied." —Library Journal
"[Lawson is] a young short story writer to rave over." —Dannye Romine Powell, Charlotte Observer
"The precision of Lawson's prose brilliantly contrasts with the messy inner lives of her characters. These are stories that dare to tread where they shouldn't, on uncertain ground that feels, in the hands of this talented young writer, remarkably concrete." —Publishers Weekly (starred review)
"Lawson's unique curiosity and deft characterization propel the plots of her unusual stories and lure readers into voyeuristically witnessing unusual psychological, sexual, and emotional experiences and awakenings." —Booklist
"An insightful portrait of the complex attitudes around love, intimacy and relationships in the American South. Sleek, wry and as layered as the characters she explores, Lawson's stories show a literary talent on the rise." —BookPage blog
"This collection conjures the dark, repressed mood of D.H. Lawrence . . . an intriguing start for a promising writer." —Seattle Times
"Lawson's palpable prose carries Virgin and Other Stories, and like any whirlwind love affair, leaves us breathless and wanting more." —Atlanta Journal-Constitution
"A tremendous intelligence paradoxically amplified by being constrained by intense emotion; April Ayers Lawson is a distinctive, and extraordinary, writer." —Rivka Galchen, author of Little Labors
"The stories in Virgin are sensual, and smart, and theologically informed—but what I find most captivating is the refined elegance of the prose itself. Like Virginia Woolf and Samantha Harvey, Lawson renders her fine, often painfully precise details in a lyrical, near-transcendent voice. She probes, without fear or inhibition, the deepest psychologies of her characters, holding their feet to the proverbial fire while never losing sight of the fact that what makes them characters are the small, specific moments of embodiment: two naked legs touching, the way a man cuffs his sleeves, an intense sexual violation—the little corks marking a vast, submerged net, as Woolf would say. Virgin is an important, immersive work by a young writer on the cusp of what I predict will be a tidal wave career." —Jamie Quatro, author of I Want to Show You More
"April Ayers Lawson is one of the boldest young writers alive. Reckless and brave, Virgin and Other Storiesswirls with characters who emotionally shape-shift through complicated worlds of sexuality, anticipation, and guilt. This is a book where each action and emotion means three things at once and where characters bleed into one another like strange, cut-up puzzles. It's a book asking you to look into its eyes, even if you know this look will lead only to disaster. But go ahead. Stare even. It's what you want anyway." —Scott McClanahan, author of Crapalachia and Hill William
"April Ayers Lawson renders complete portraits of sexual relationships, from start to finish, in a way that is fully honest and brave and even occasionally shameless, in the highest sense. Fearless, bold, these stories are entertaining contemporary classics." —Amie Barrodale, author of You Are Having a Good Time
Farrar, Straus and Giroux, 9780865478695, 192pp.
Publication Date: November 1, 2016
About the Author
April Ayers Lawson is the recipient of the George Plimpton Award for Fiction, as well as a writing fellowship from The Corporation of Yaddo. "Virgin" was also named a favorite short story of the year by Flavorwire Magazine and anthologized in The Unprofessionals: New American Writing From The Paris Review. Her fiction has appeared in the Norwegian version of Granta, Oxford American, Vice, ZYZZYVA, Crazyhorse, and Five Chapters, among others. She has lectured in the Creative Writing Department at Emory University, and is the 2016-2017 Kenan Visiting Writer at University Of North Carolina, Chapel Hill.
or
Not Currently Available for Direct Purchase