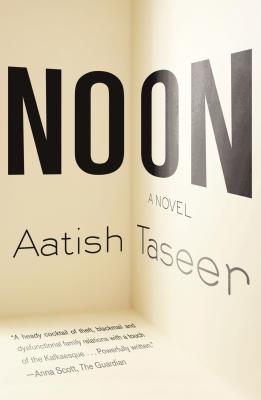 Noon (Paperback)
A Novel
Farrar, Straus and Giroux, 9780865478756, 304pp.
Publication Date: October 2, 2012
* Individual store prices may vary.
Description
Rehan Tabassum has grown up in a world of privilege in Delhi. His mother and her new husband embody the dazzling emergent India everyone is talking about. His real father, however, is a virtual stranger to him: a Pakistani Muslim who lives across the border and owns a vast telecommunications empire called Qasimic Call.
As Rehan contemplates his future, he finds himself becoming unmoored. Leaving the familiarity of home for Pakistan in an attempt to get closer to his father, he is drawn into events he barely understands. His half brother, Isffy, is being blackmailed; his powerful father's entourage is tearing itself apart; and the city of Port Bin Qasim, where he finds himself, is filled with rioting protestors. Moral danger lurks in every corner of this dark, shifting, and unfamiliar world.
Set against the background of a turbulent Pakistan and a rapidly changing India, Noon is a startling and powerfully charged novel from a brilliant young writer. Aatish Taseer bears witness to some of the most urgent questions of our times, questions about nationhood and violence, family and identity.
About the Author
Aatish Taseer was born in 1980. He is the author of the memoir Stranger to History: A Son's Journey Through Islamic Lands and three acclaimed novels: The Way Things Were, a finalist for the 2016 Jan Michalski Prize; The Temple-Goers, which was short-listed for the Costa First Novel Award; and Noon. His work has been translated into more than a dozen languages. He is a contributing writer for The International New York Times and lives in New Delhi and New York.
Praise For Noon: A Novel…
"Combining a heady cocktail of theft, blackmail and dysfunctional family relations with a touch of the Kafkaesque, this is a powerfully written and deeply thoughtful work." —Anna Scott, The Guardian
"A meditative, occasionally jolting novel by Aatish Taseer, the 31-year-old son of the former governor of Punjab, Salman Taseer . . . [A] blackmail plotline provides the novel with its brutal climax--and deepens the perception that Pakistan is both decadent and abnegating, irrevocably Westernized and violently closed off. The novel's smart coda . . . does nothing to reconcile or rationalize these contradictions. No sense trying to do so, seems to be the message of this intelligent, unsettling novel--a theme only a fiction writer could express in such a satisfactory way." —Taylor Antrim, The Daily Beast
"Naipaul's praise is rare enough to be notable; and Taseer lives up to it . . . Among the sharpest and best-written fictions about . . . contemporary India." —The Independent
"[A] tangle of politics, murder, bribery and betrayal . . . Gripping." —The Observer
"Noon's careful yet nimble prose captures the visceral quality of this world in decline through a keenly critical and coldly detached lens . . . Moral corruption, greed, and violence are not glamorized or sensationalized; they are recursive facts of life, eternally returning as Nietzsche would've guessed, and modern day Pakistan is not immune . . . It pops with the verve of a great detective story, filled with suspense and scandal, but also empathy and even meta-fiction." —Stephen Spencer, Electric Literature