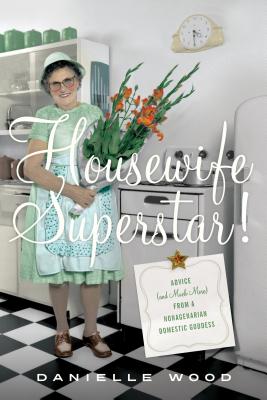 Housewife Superstar! (Paperback)
Advice (and Much More) from a Nonagenarian Domestic Goddess
Farrar, Straus and Giroux, 9780865478893, 224pp.
Publication Date: May 21, 2013
* Individual store prices may vary.
Description
The life, advice, and many marriages of a ninety-something Tasmanian domestic goddess, the real-life humor inspiration for television's Dame Edna


Marjorie Bligh is the ninety-five-year-old Martha Stewart you didn't know you were missing. Does your goldfish have constipation? Feed it Epsom salts. Have you run out of blush? Cut a beet in half and slap it on your cheeks. Are there possums in your ceiling? Housewife Superstar will tell you how to get them out. Famous for never wasting a thing, Marjorie crochets her bedspreads from plastic bags and used panty hose, and protects the plants in her garden with bras. In 1958, upon entering the food and craft contests at her town show, she won in seventy-eight categories; the next year she won in seventy-two but was denied the trophy by jealous rivals.
Once divorced and twice widowed, Marjorie is, according to her colossal fan Barry Humphries (of TV comedy Dame Edna fame), "no slouch in the matrimonial department." Her first husband, Cliff, was loving but turned brutal. Her second marriage, to preacher and schoolteacher Adrian, was punctuated by endless love notes, breakfasts in bed, and territorial fights with his adult daughters. She snagged her third husband, Eric—a bus driver—with promises of fruitcake and flirtatious glances in his rearview mirror. Marjorie designed two homes and a museum devoted to her creations, worked for half a century as a journalist and columnist, and raised two sons, all while building a devoted following. Danielle Wood's Housewife Superstar is an illuminating look at a treasure.
About the Author
Danielle Wood was born in Tasmania in 1972. Her first novel, The Alphabet of Light and Dark, won the 2002 Australian/Vogel Literary Award and was short-listed for the 2004 Commonwealth Writer's Prize in the Best First Book category.
Praise For Housewife Superstar!: Advice (and Much More) from a Nonagenarian Domestic Goddess…
"I don't think Edna has ever admired anyone as much as she admires Marjorie Bligh." —Barry Humphries (Dame Edna)
"Prepare to become obsessed with Marjorie. She's a human fascinator--one she made herself." —Kaz Cooke, author of Real Gorgeous