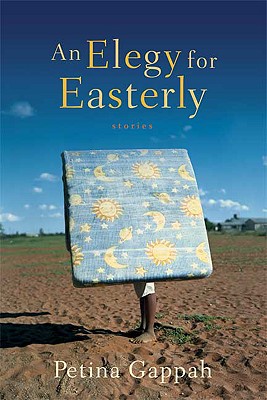 An Elegy for Easterly (Hardcover)
Stories
Faber & Faber, 9780865479067, 240pp.
Publication Date: May 26, 2009
Other Editions of This Title:
Paperback (6/8/2010)
* Individual store prices may vary.
Description
A woman in a township in Zimbabwe is surrounded by throngs of dusty children but longs for a baby of her own; an old man finds that his new job making coffins at No Matter Funeral Parlor brings unexpected riches; a politician's widow stands quietly by at her husband's funeral, watching his colleagues bury an empty casket. Petina Gappah's characters may have ordinary hopes and dreams, but they are living in a world where a loaf of bread costs half a million dollars, where wives can't trust even their husbands for fear of AIDS, and where people know exactly what will be printed in the one and only daily newspaper because the news is always, always good.
In her spirited debut collection, the Zimbabwean writer Petina Gappah brings us the resilience and inventiveness of the people who struggle to live under Robert Mugabe's regime. She takes us across the city of Harare, from the townships beset by power cuts to the manicured lawns of privilege and corruption, where wealthy husbands keep their first wives in the "big houses" while their unofficial second wives wait in the "small houses," hoping for a promotion.
Despite their circumstances, the characters in An Elegy for Easterly are more than victims—they are all too human, with as much capacity to inflict pain as to endure it. They struggle with the larger issues common to all people everywhere: failed promises, unfulfilled dreams, and the yearning for something to anchor them to life.
About the Author
Petina Gappah is a Zimbabwean writer whose work has appeared in "Prospect," "A Public""Space," "Per Contra," and "The Zimbabwe Times," and on the website of "Granta." She holds law degrees from the University of Cambridge, the University of Graz, and the University of Zimbabwe, and works in Geneva as an international trade lawyer.
Praise For An Elegy for Easterly: Stories…
"Petina Gappah's stories range from scathing satire of Zimbabwe's ruling elite to earthy comedy to sensitive accounts of the sufferings of humble victims of the regime. Gappah is a fine writer and a rising star of Zimbabwean literature." —J. M. Coetzee
"In an era when a never-ending newsfeed lets crucial events slip into oblivion, Petina Gappah's stories are particularly important. With great insight, humor, and energy, she brings us a world that, despite its differences at first glance, is not unlike our own: its people's hopes and fears are our hopes and fears, their laughter and tears ours, too. Gappah is a powerful new writer worth celebrating." —Yiyun Li, author of The Vagrants
"In An Elegy for Easterly, Petina Gappah has written a vital and honest collection of stories that vividly capture the surreal personal tragedies of twenty-first-century Zimbabweans through a rich palette of wry, dark, and intimate voices." —Owen Sheers, author of Resistance and The Dust Diaries
"Death and disaster, while never glossed over, are handled with unexpected humor, as they often are in folktales, and this is a part of the book's great charm… [One] story, about an elderly coffin maker who comes out of retirement and then dances himself to death on the floor of the "Why Leave Guesthouse and Disco-Bar" has a wild, cracked gallows humor reminiscent of Chekhov's peasant stories. And "The Maid from Lalapanzi", a wonderful tale structured partly as a chronicle of the various country girls hired and fired as maids in the narrator's household, spreads out such a wealth of comedic social detail that you don't fully grasp the underlying brutality of the story until it's over. All of these pieces depend on swiftness and lightness for their effect; flaring up into momentary life and then fading out before they acquire any burdensome solemnity, and this…seems true to the essential nature of the [short story] form."
—
James Lasdun,
The Guardian
"A fine, soul-stirring debut presents 13 snapshots of life in desperate contemporary Zimbabwe. … Searing, but never over the top: Gappah holds the anger and horror in check with exemplary artistic discipline."—Kirkus Reviews
"In her accomplished debut, Gappah, a Zimbabwean writer and international trade lawyer, casts her compassionate eye on a diverse array of characters living, grieving, loving – and fighting to survive – under Robert Mugabe's regime. … Gappah's deep well of empathy and saber-sharp command of satire give her collection a surplus of heart and verve."—Publishers Weekly
"Many of the stories are written with humor and insight, and Gappah's characters are so vivid that it's easy to put aside the politics for a while and embrace the human factor … Perhaps it's her love of people that has helped her to get under the skin of her characters and shape them so effortlessly on the page."—Lauren De Beer, The Weekender (South Africa)
"A series of short, heartbreaking tales. … These stories are shot through with humor and empathy. And for anyone who has been in Zimbabwe in recent years, this book is full of closely observed local detail that will bring back memory."—Geoff Wisner, The Christian Science Monitor
"It is the frequent humour in these stories that makes them remarkable, even if their outcomes can be tragic. Often satirical, occasionally lyrical, they are a delight."—Tom Fleming, The Observer
"The book is an elegy in a broader sense – for the optimism and hope of 1980, beautifully evoked in 'Aunt Juliana's Indian.' … Gappah's language is crisp and clean, with a musical quality that frequently draws on her first language, Shona. An Elegy for Easter is a powerful debut from a fresh voice, with themes – from disappointment and betrayal to promise and love – that will resonate with readers everywhere."—Susan Williams, The Independent
"Laced with deliciously dark comic undertones. … This hybridization of cultures assimilates the reader into the vibrant, prosperous home left behind, but preserved in Gappah's hopeful imagination."—Eachan Johnson, The Oxonian Review
or
Not Currently Available for Direct Purchase