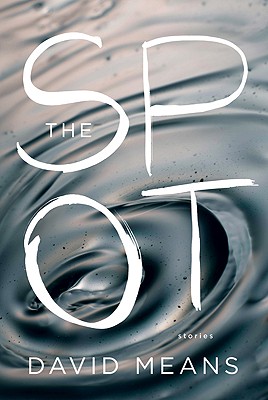 The Spot
Stories
Hardcover

* Individual store prices may vary.
Other Editions of This Title:
Paperback (6/21/2011)
Description
The Spot is an old blacksmith shed in which three men tweeze apart the intricacies of a botched bank robbery.

The Spot is a park on the Hudson River, where two lovers sense their affair is about to come to an end.
The Spot is at the bottom of Niagara Falls, where the body of a young girl floats as if caught in the currents of her own tragic story.

The Spot is in the ear of a Manhattan madman plagued by a noisy upstairs neighbor .

The Spot is a suburban hospital room in which a young father confronts his son's potentially devastating diagnosis.

The Spot is a dusty encampment in Nebraska where a gang of inept radicals plot a revolution.
The Spot draws thirteen new stories together into a masterful collection that shows David Means at his finest: at once comically detached and wrenchingly affecting, expansive and concise, wildly inventive and firmly rooted in tradition. Means's work has earned him comparisons to Flannery O'Connor (London Review of Books), Alice Munro, Bob Dylan, Jack Kerouac (Newsday), Hemingway, Sherwood Anderson (Chicago Tribune/NPR), Denis Johnson (Entertainment Weekly), Poe, Chekhov, and Carver (Milwaukee Journal Sentinel), but the spot he has staked out in the American literary landscape is fully and originally his own.
Praise For The Spot: Stories…
"Means is more than a conventionally accomplished realistic story writer. As I've written before in these pages, his fiction sometimes skitters up to the borderline of legend . . . he can produce work that holds up even in comparison with his most gifted ancestors like Sherwood Anderson and Ernest Hemingway, employing some of the most sharp-edged and beautifully spare language of any writer of his generation. The stories in 'The Spot' show him working at the top of his powers . . . With this new collection readers with a taste for high art in the short story will want to place him up there with writers such as Evan Connell, James Salter, and, from a slightly younger generation, Tobias Wolff and Richard Ford." —Alan Cheuse, The Chicago Tribune  
"David Means revives the American short story in this quietly compelling collection about adulterous Manhattanites, violent train-yard drifters, pensive madmen, and concerned fathers. It's as if the works of Poe and Kerouac had been rewritten by Cheever." —Details
"Each story is a reminder of why people break, and an uncomfortable revelation that we are all closer to breaking than we think." —Esquire
"His book is dark, deep and dangerous. Here, the author's technical authority continues to astonish. He'll switch point of view midstory or examine the act of storytelling while telling a tale that you actually want to read. His most typical pieces, at once shadowy and insanely focused, feature bleak Midwestern violence: the crucifixion of a high-school boy, or the murder of a farmer by a hooker. Others bend time until it becomes as complex as the characters themselves . . . Virtuosic." —Leigh Newman, TimeOut New York
"The stories by Means (
The Secret Goldfish
, 2004, etc.) defy categorization. There are 15 of them in this slim volume, a couple as short as a (long) paragraph, yet they resist the tag of 'minimalism.' Instead, they are dense with detail, character and theme, and they connect in some surprising ways that aren't immediately apparent. The stories within the stories, like the fiction of Means through which they are framed, often have an archetypal quality transcending the characters (many unnamed), as if something immutable in the human condition keeps repeating itself: 'The story would end and then it would just keep going, the way this one does.' Though the author teaches at Vassar, these stories have a lot more punch and life than academic, creative-writing exercises. —Kirkus Reviews (starred review)  
"In three previous collections, Means proved himself a master of the short form, earning comparisons to O'Connor and Carver for his tight, energetic sentences. The 13 luminous stories in his fourth collection are just as strong. Here Means articulates the impulsiveness of angst-driven loners, including the homeless who've lost their faith in others and drifters whose only means of survival is their tale, whether true or otherwise. In the title story, a pimp, schooled in the Bible and disguised as a Northern Michigan farmer, tells a client about a girl whose drowning was his fault, and whose father followed her body to Niagara Falls. A group of hoboes swap stories involving knives until one man's silence betrays his refusal to reveal the tale of revenge that brought him to this place. A man assuming the worst for his ailing son wraps up his son's old toys and arranges an early Christmas. Darkly comic and rich in language and drama, Means' cerebral tales are astute, amusing, and companionable."—Jonathan Fullmer, Booklist
"Every reader has a comfort zone. When an author breaks that boundary, the reader is forced to come to terms with the limits of their own adventurous nature. If it sounds as though David Means's newest collection of short stories, The Spot, forced me into my own literary panic room—if it sounds as though I'm fighting for some sense of ownership over these stories—well, it did, and I am. Means was put on earth to frustrate creative writing teachers and John Gardner evangelists: His characters don't change. A lot of his action happens in flashback. His violence borders on the grotesque. He can take or leave paragraphs as structural units of composition. And he rarely, if ever, allows for immersion into fiction's 'vivid and continuous dream.' Yet to read The Spot is to understand that these rules were made to be broken—or, in Means's case, to be pistol whipped, dragged into a quarry, shot twice in the head, and set on fire." —The Rumpus
Faber & Faber, 9780865479128, 176pp.
Publication Date: May 25, 2010
About the Author
DAVID MEANS was born and raised in Michigan. His second collection of stories, "Assorted Fire Events," earned the "Los Angles Times" Book Prize for fiction and a National Book Critics Circle nomination. His third book, "The Secret Goldfish," received widespread critical acclaim and was shortlisted for the Frank O'Connor International Short Story Prize. His fourth book, "The Spot," was selected as a 2010 Notable Book by "The New York Times," and won an O. Henry Prize. His books have been translated into eight languages, and his fiction has appeared "The New Yorker," "Harper's Magazine," "Esquire," "Zoetrope," "The Best American Short Stories," "The Best American Mystery Stories," "The O. Henry Prize Stories," and numerous other publications. He lives in Nyack, New York, and teaches at Vassar College.
or
Not Currently Available for Direct Purchase